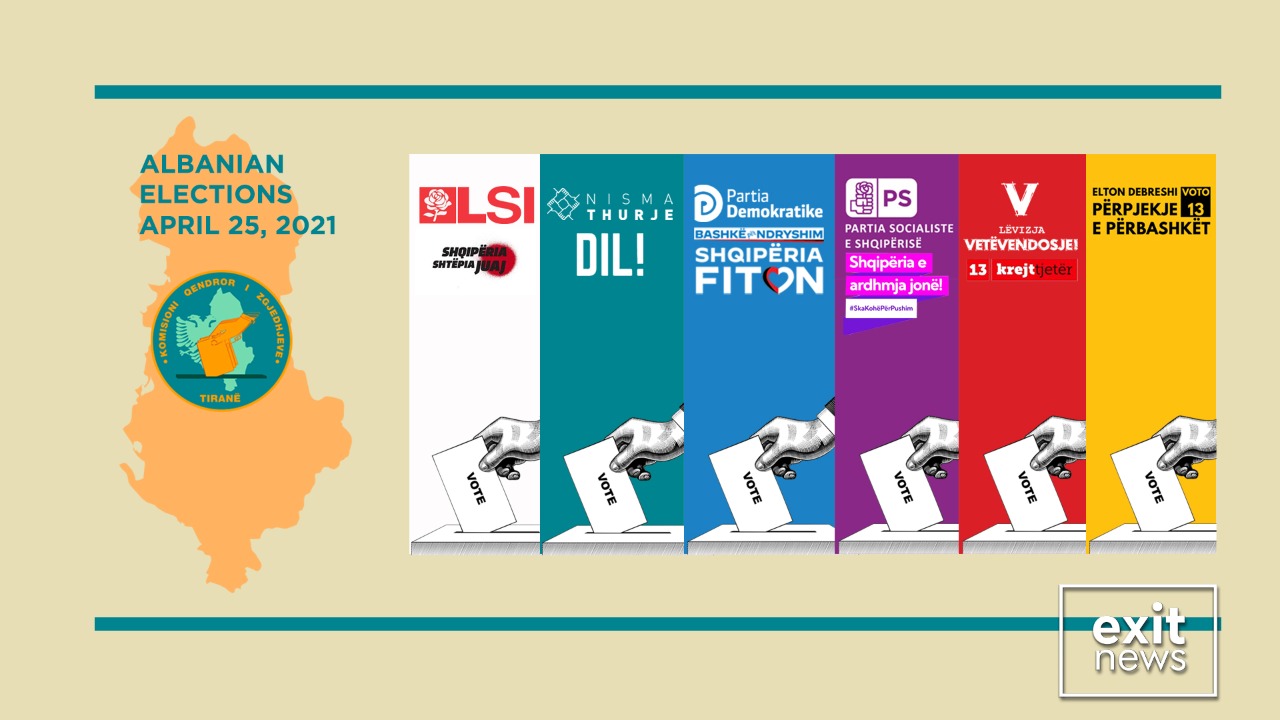 With just a few days remaining before elections on April 25, the political parties and MP candidates continued their electoral meetings in several cities of Albania. Exit brings you a roundup of the key promises and comments made during yesterday's meetings.
Socialist Party (PS)
With just a day of campaigning left, the Socialist Party closed its election campaign in Skanderbeg Square Tirana.

Minister of Education and MP candidate Evis Kushi held a meeting in Elbasan. She said that "the growing enthusiasm of people shows that people trust PS to continue important reforms not only in Elbasan but all over Albania".

Political leader of Vlora, Damian Gjinuri held the closing election meetings in Konispol and Saranda. 

Minister for Europe and Foreign Affairs, at the same time MP candidate in

Korça,

Olta

Xhaçka held the final meeting of the election campaign in Dvoran. 

MP Candidate of Durrës Adrian Çela during the closing meeting of the campaign said that their goal is to get 8 mandates in Durres Region.

Political Leader of Elbasan Tauland Balla held a meeting with residents of village Dardhë, in Librazhd.
Democratic Party (PD)
Chairman Lulzim Basha held a meeting with 500 socialists who have joined PD.  He thanked them for the trust given to the party and said that people should say no to

oligarchs who have come together to appropriate the country's wealth.

Basha was also in Fier closing the electoral campaign. He said that vote-buying should stop. 

The coordinator of PD Edmond Spaho during a meeting in Korça promised the opening of negotiations in the EU.

MP candidate Belind Këlliçi said that "citizens' property cannot be stolen", saying that he had evidence of corruption in the legalization lists. "Evidence has been manipulated in police station number 6". Këlliçi announced that he has delivered a USB containing an audio recording to SPAK detailing how bribery was used to facilitate property matters.
Socialist Movement for Integration (LSI)
LSI concluded its election campaign in Mother Teresa Square, Tirana.

Chairwoman Monika Kryemadhi urged Albanian socialists to vote for LSI. 

MP Candidate  Grisejda Myslim held meetings with residents in Vlora. She said that "the great victory is felt by many young people who deserve to be well represented in the Parliament" 

Endrit Braimllari said during a press conference that high officials used state institutions for their personal function during the electoral campaign. 
Nisma Thurrje (NT)
MPs candidates of NT held several electoral activities on Thursday. 

NT party presented 3 of 33 draft laws they are proposing to be implemented in the Assembly if they are elected, regarding "civil servants", "miner status" "labor tribunal" 
Vetevendosje (VV) 
Three independent MPs candidates supported by the VV Movement in Albania held a joint event in the final electoral meeting in Tirana.

The head of LVV in Kosovo Albin Kurti joined online and expressed his support for the candidates. Kurti said that Kosovo and Albania are united by national ideas. 

Kurti praised their honest campaign which did not use insults against opponents but spoke about their program. Kurti said that VV support in Albania will increase soon. 

MP candidate in Gjirokastra, Kreshnik Merxhani called for the protection of Vjosa, reflecting once again the request of citizens of this area and the voice of many activists around the world to protect this rare national asset.
Independent Candidate
Independent MP candidate in Diber, Elton Debreshi held several activities in Sopot, Muhur, Diber. He discussed the problems of the village, flooding of agricultural land, irrigation, the lack of perspective, and the "miner status" which would give life to the entire province. 

Debreshi said that the unconditional use of water resources of Dibra in HPPs constructions is one of the main points of his political program.

Debreshi held a meeting with former Greek Minister Yannis Varoufakis on Thursday who expressed his support for his candidacy.