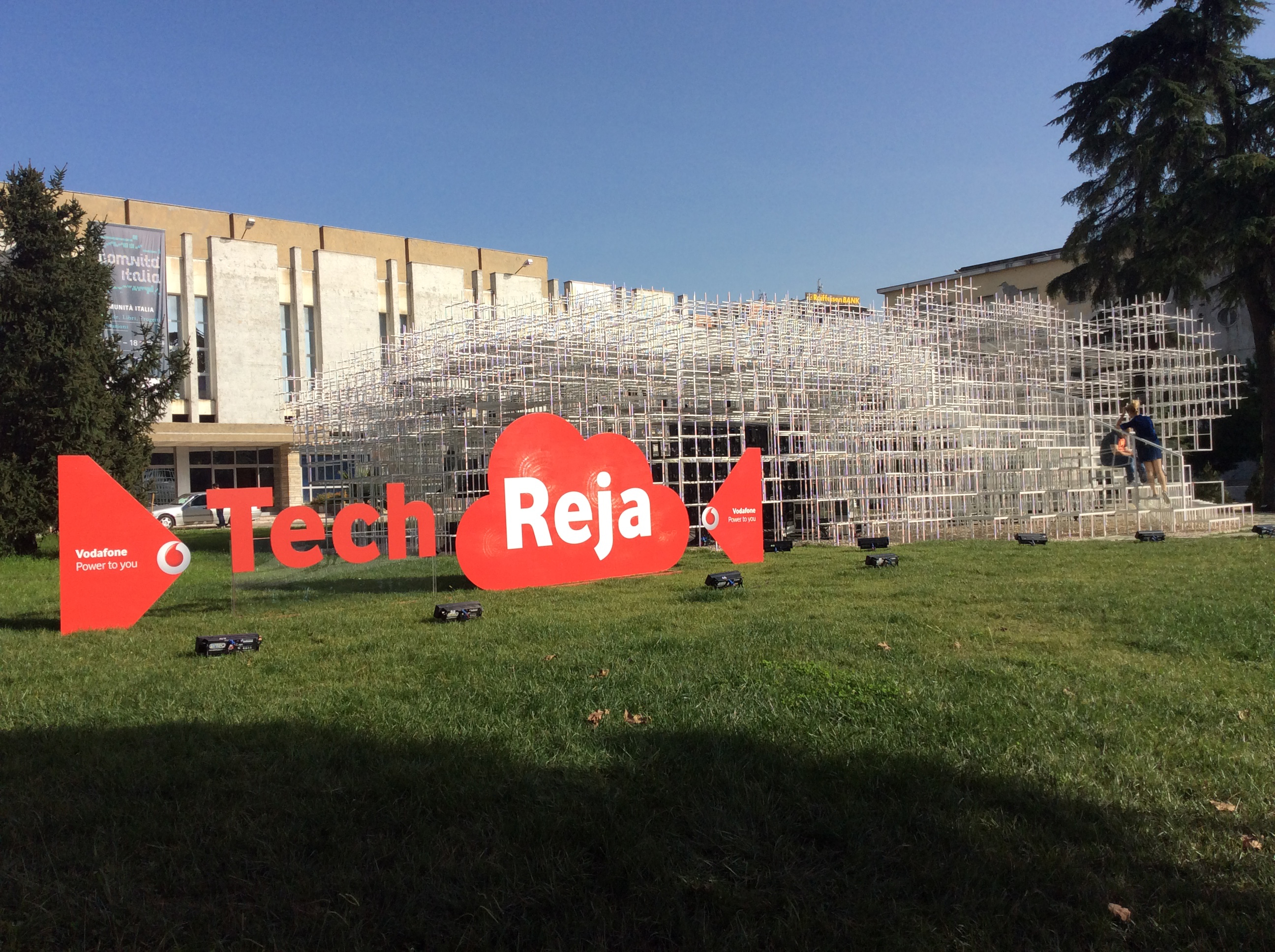 Since a few days, the "Cloud" pavilion by renowned Japanese metabolist architect Sou Fujimoto, installed in front of the National Gallery of Arts, has turned into a commercial advertisement for Vodafone "cloud" services. After previously mobile phone company Telekom turned Mother Theresa Square into a giant advertisement, yet another space originally intended for public debate and events has been converted into a zone rented out to commercial actors.
Fujimoto's "Cloud" pavilion, which originally was commissioned in 2013 for Hans Ulrich Obrist's Serpentine Gallery in London, was transferred as a "temporary" installation to the lawn in front of the National Gallery of Arts in Tirana in the spring. As it was originally designed as a site-specific installation embedded in lush environment of the Kensington Gardens, its displacement to the urban environment of central Tirana was not uncontroversial, especially because it completely blocked the monumental façade of the National Gallery, and because of the concrete foundation that needed to be constructed in the middle of its front lawn – effectively destroying one of the few green spaces in the center.
The installation of the "Cloud" (or "Reja" as it is known in Albanian) was primarily funded by the Luma Foundation of art collector Maja Hoffmann, who is also board member of Prime Minister Edi Rama's Center for Openness and Dialogue.
The "Cloud" was inaugurated on May 28, 2016, in the presence Tirana Mayor Erion Veliaj, artist and Rama's close collaborator Anri Sala, Hoffmann, Obrist, and Fujimoto. In his opening speech, Veliaj stressed that the project, which would "serve as a space for meetings or different cultural or social activities," had not cost the citizens "a single cent" and that the project had been completely "free."
Queried about the Vodafone sponsorship, Edit Pula, the former student of Edi Rama and Cultural Councillor to Veliaj who is in charge of the programming of the "Cloud," responded that "every museum and every Serpentine pavilion has corporate events," and that the Vodafone sign "did no harm to the Cloud." Nevertheless, it remains unclear how the installation, which Fujimoto intended as "something melting into the green," can be reconciled with the visual clutter placed in and around it by corporate sponsors, now that it appears that the "free" money is gone. If anything, the Vodafone adverts are a grave breach of authorial intention.