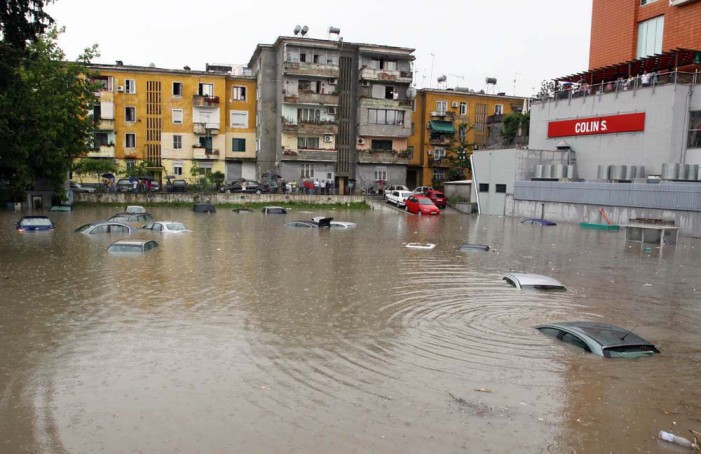 Over the last 36 hours heavy thunderstorms and excessive rainfall have caused the first victims, while the entire country has been covered in floods.
A 40-year-old man drowned in the Mat, which had left its river bed. Floods of the Tirana river caused another victim, also about 40 years old, near Kamza. In Këlcyra, a 50-year-old man blew off his roof because of the strong winds.
The floodgates of the hydropower plants in Shkopet and Ulza have been opened because of the rising water levels, causing several branches of the Mat to leave their river beds. As a result 630 ha (=1556 acres) of land has been inundated in Lezha, while the water is entering houses and shops in Fushë-Kruja.
In Shkodra, 30 buildings have been flooded and hundreds of acres have been damaged by floods caused by the river Drin.
The main roads in Durrës have been flooded, preventing traffic and transport.
In Tirana, the river Lana has been flooding parts of the main axes in the city, while in the peripheral zones of Bregu i Lumit, Don Bosko, Kombinat, Selita, and Komuna e Parisit the situation is critical. At least four schools have become inundated and main rods have become inaccessible.
In Vlora, many roads have become flooded and a ferry with about three hundred passengers has been unable to enter the harbor due to high waves.
The Ministry of Education and Sports has announced schools will remain closed in the entire until the situation improves.
Meanwhile, Prime Minister Rama has assembled the civil emergency staff in Tirana to discuss measures.