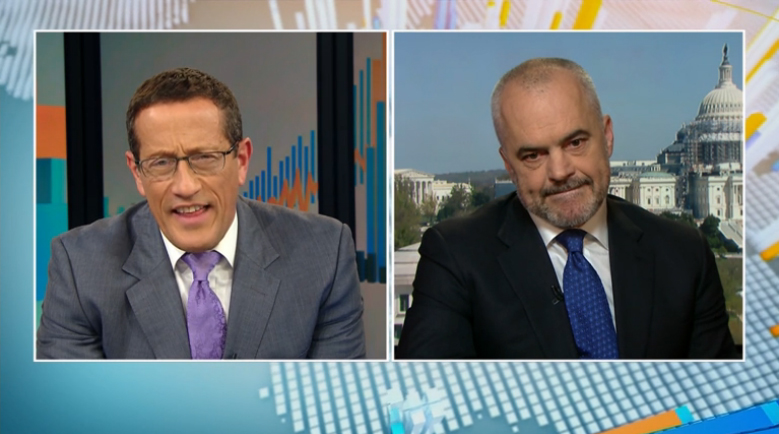 Back in April 2016, Prime Minister Edi Rama appeared on the program "Quest Means Business" at US cable news channel CNN to discuss the possible nomination of Donald Trump as Republican candidate.
America is a shining city on the hill. The proposals that we are listening [sic] from Donald Trump are really frightening and are really undermining what America is in our eyes.
When reminded by journalist Richard Quest that it is considered against diplomatic protocol for a "foreign leader" to "comment on elections in other countries," Rama responded:
I didn't comment on elections. I simply did something that I then realized was not the only and not the first to say. Other leaders in Europe have expressed the same concern because America and the United States is [sic] far greater and far more important than for itself and in itself. [It] is in our eyes a world leader that we follow as a very, very inspiring example.
Quest then prodded him on the possibility that Trump might become the Republican candidate, suggesting that this would complicate maintaining an averse position toward him.
God forbid. I think it would harm a lot America and it would harm a lot the democratic world. Because he, at the end, will have to do some of the things he is saying he will do. And then, of course, it will be very, very harmful.
It is unclear, now that Donald Trump has become the President-Elect of the USA, how Rama envisions the ongoing bilateral relations with one of Albania's largest allies.
Not the first time
This was not the first time that Prime Minister Rama involved himself in US elections.
During US President Barack Obama's reelection campaign in 2012, which coincided with Rama's own campaign in the national elections, a photo turned up in which Rama appeared to meet Obama at a fundraiser.
It later turned out that Rama has attempted to enter an Obama campaign event in San Francisco but had been refused at the door. The picture had been taken later, outside the meeting.
In late June this year, it appeared that Bilal Shehu, a US limousine driver with Albanian background, had paid $80,000 for tickets to the event for him and his wife, but had allegedly brought Rama instead. As making foreign contributions to a presidential campaign is illegal, he was indicted at a Federal Court in New Jersey, pleading guilty to the accusation.
Impending visit
Edi Rama is expected to visit the US on Friday, on a private visit to New York, where he is planning to open a solo art exhibition at Marian Goodman Gallery.
Update: Prime Minister Rama congratulated Trump through Facebook around noon:
The American people made their choice today. A great friend of Albania, Kosovo, and all Albanian, Hillary Clinton, didn't manage to become the first female president in the history of the United States.

Her opponent, Donald Trump, was elected the 45th President of the USA, convincing the Sovereign to vote for his alternative, after an extraordinary debate within and outside the United States of America.

Congratulating President [sic] Trump on his election and all the success that the Americans and friends and partners of the USA wish that great country, I am convinced that our strategic relation with the United States will continue to be strengthened in function of our common values and interests, which make Albania a valued friend and ally of the American people and government.