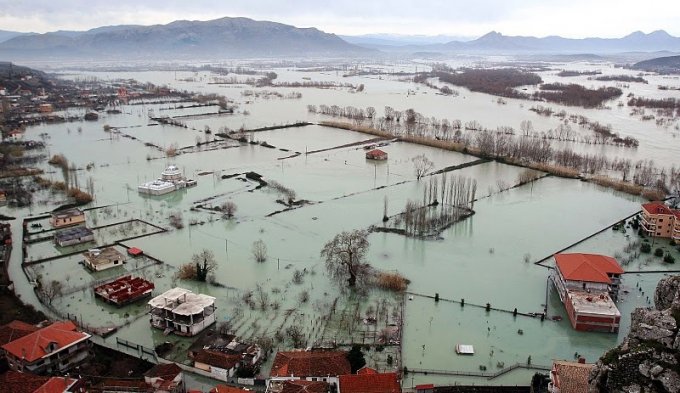 The flooding situation remains problematic in several regions of the country. Although yesterday rainfall has been less, water is still covering large swaths of Shkodra, where in the villages Obot and Bërdica 120 houses and 750 acres of land remain inundated.
In Dibra the embankment of the river Drin is being repaired, after a branch of the river had left the riverbed and damaged several houses, a bridge, and water pipes near Fushë-Bulqiza.
In Shijak, Durrës, the river Erzen has flooded 20 buildings. The inhabitants have been evacuated by the Volunteer's Center of Emergencies and the forces of the Albanian army.
In Tirana, the most critical situation remains in Bregu i Lumit, where 80 houses remains flooded by the Tirana river. In Babrru, massive landslides have blocked a road.
The Operator for the Distribution of Electrical Energy (OShEE) has warned that in Tirana there will be problems with the electricity network in Zall Bastar, Vora, Preza, Paskuqan, Valias, Shëngjergj, and Siri Kodra Road.
In Vlora, the Vjosa has left its riverbed and has flooded several houses. In Selenica the heavy flows of the river was destroyed the bridge of Brahaj, locking off the entire zone. Also the roads that are connecting the villages of Selenica with Vlora have become inaccessible.
Minister of Agriculture and Rural Development Edmond Panariti has warned the inhabitants close to the Vjosa river to leave, as the water level in the river is expected to rise during the day.