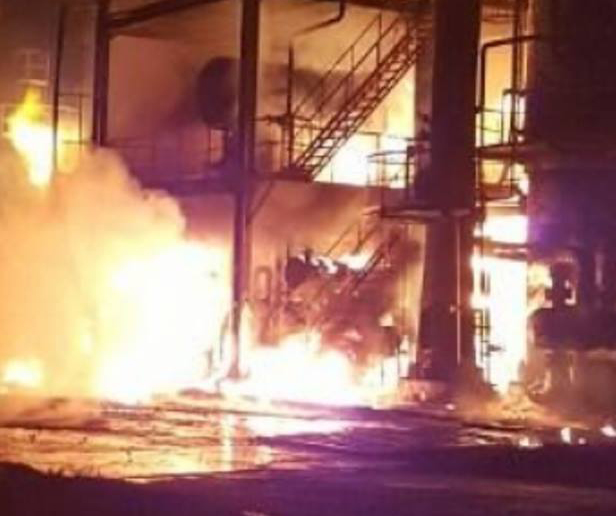 A strong explosion yesterday night around 23:30 in the oil refinery (ARMO) in Ballsh has cost the life of one worker, 40-year-old Shkëlqim Muça, while wounding five others.
The blast occurred in the hydro-cleaning sector as the result of a defective hydrogen valve. The defect had been reported earlier, but had not been repaired.
When the refinery was reopened in September 2016, Minister of Finances Arben Ahmetaj claimed that during the first year $52 million would be invested in the renovation of the refinery.
One week ago on November 4, during an inspection of the refinery, Prime Minister Rama stated that he hoped that the reopening of the refinery would bring back hope to the oil workers.
History of protest and mismanagement
For ten months before the reopening in September, workers had been protesting for their right of work and one year of unpaid salaries. Last May, Reporter published a damning investigation of the mismanagement, corruption, tax evasion, and fraud that had led to the bankruptcy of the oil refinery after the privatization of the factory in 2008.
In 2008, businessman Rezart Taçi, took control of 85% of the shares of ARMO through Anika Mercuria Rafinery Associated (AMRA) Oil for € 128 million. AMRA Oil was 80% property of Taçi, and 20% of Refinery of Texas. He financed the takeover with a suspect loan from the International Bank of Azerbaijan, whose directors have been arrested for fraud. Taçi himself is currently in prison for fraud in Switzerland.
From 2009 until 2013, Taçi systematically bankrupted ARMO, leaving it with a $500 million debt in 2014.
The factory was reopened in September 2016 and currently managed by the Ionian Refining and Trading Company, an offshore company located on the Virgin Islands. Ionian Refining and Trading Company is represented by former fighter pilot and US oil "tycoon" Harry Sargeant III. According to several articles in the US media, Sargeant has a history of legal conflict and bribery.