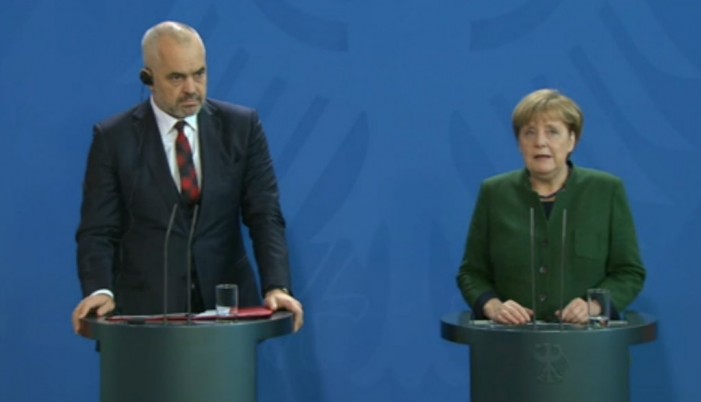 German Chancellor Angela Merkel and Prime Minister Edi Rama have made a few comments for the media before their official meeting in the Chancellery in Berlin.
In her brief statement, Chancellor Merkel spoke about five priorities for the integration of Albania into the EU: the fight against crime, the fight against corruption, the electoral reform according to the recommendations of OSCE-ODIHR, and the judicial reform.
Even though she didn't mention the seven conditions proposed by the Chairman of the EU Affairs Commission of the Bundestag Gunther Krichbaum, Chancellor Merkel basically confirmed them point by point.
A source close to Deputy Krichbaum confirmed to Exit that in their meeting, Chancellor Merkel will specifically raise the issues of the drug traffic and cultivation and the decriminalization of politics as conditions for the opening of the accession negotiations.
In his comments, Prime Minister Rama spoke in general terms about the European aspirations of Albania and his efforts in that direction. In response to Chancellor Merkel's concerns regarding crime, corruption, and free elections, Prime Minister Rama only spoke about the judicial reform and the vetting law.