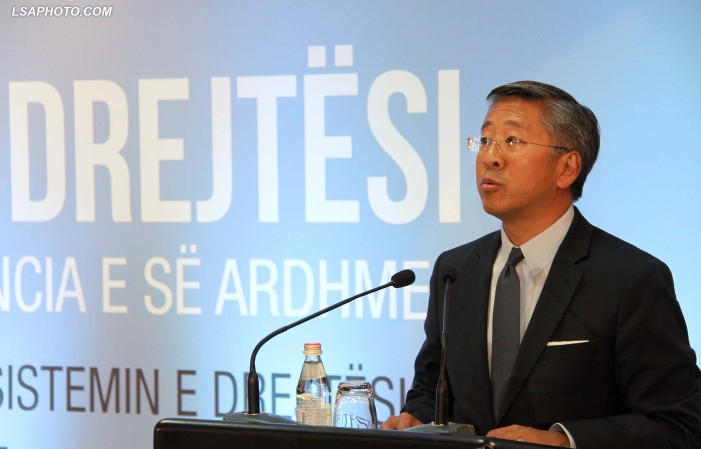 This morning, US Ambassador Lu spoke this morning at the yearly stocktaking meeting of the People's Advocate. In a change of tone from his earlier declarations, he emphasized the inability of Albanian institutions to fight organized crime, in spite of the support and encouragement from international institutions.
The delay in the arrest of Klement Balili, former official in Saranda, represents a great failure of the police and the justice system.

For seven months I have encouraged the police, the Minister of Interior Affairs, the General Prosecutor, to arrest Klement Balili. It's seven months ago that the Greek police arrested drug traffickers linked to Balili in Greece. [Balili] freely walks the street of Tirana, because until last Friday the Chief Prosecutor hadn't ordered his arrest.
Furthermore, Ambassador Lu accused the entire Albanian political class of being implicated with crime and corruption:
Albania would be a better place if the governments would turn their ear to the People's Advocate. Instead, left- and right-wing politicians have paid attention to the powerful interests of corrupted businessmen, big criminals, and even drug traffickers.
From today's declaration it appears that Ambassador Lu shares the same opinion as the Foreign Council of the European Union, which in its conclusions stated that Albania is not ready for the European Union without showing that it's fighting crime and fulfilling the conditions that have been set.
If Albanian cannot capture Klement Balili, how can it go after "the other big fish"? Who would want to work with Albania, who would believe that this is a country that's serious about fighting drug trafficking?