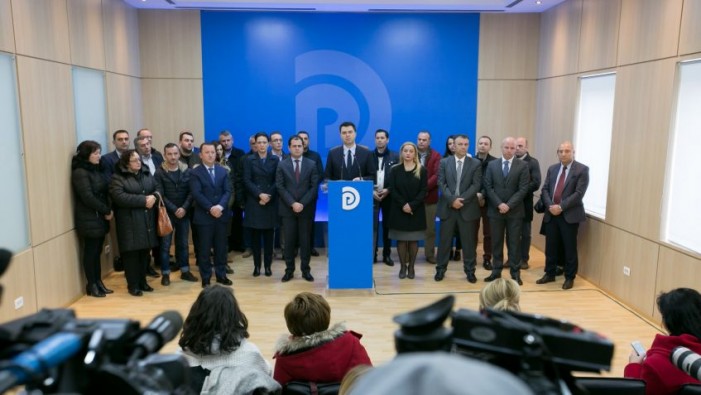 During a press conference in Durrës today, Democratic Party (PD) leader Lulzim Basha sought the dismissal of Mayor of Durrës Vangjush Dako, after he gave an employment guarantee to secure the early release of gang-leader Lulzim Berisha ahead of the 2017 elections.
The Mayor of the Municipality of Durrës, Vangjush Dako, has used the power and office entrusted to him by the citizens of Durrës to release from prison a criminal who has murdered and terrorized the citizens of Durrës. Vangjush Dako consciously has chosen to join with crime and for this reason the Democratic council members and deputies of the Municipality of Durrës have decided to request the immediate dismissal of Dako on the basis of the Constitution and the laws of the country.
Basha asked the Prosecution to start to investigate Mayor Dako as soon as possible, while asking the citizens and international representatives to urge Prime Minister Rama to break with the criminal relations of his government and fight crime.
As they have clearly shown, the cases of Lulzim Berisha, Klement Balili, Elvis Rroshi, Armando Prenga, Artur Bushi, Tërmet Peçi, and so on, criminals and criminal organizations nowadays constitute the main pillars upon which the government of Edi Rama is supporting itself. Rama has lost any type of control over the institutions and legal power, and is now just a tool and pawn in the hands of some of the most powerful criminals and criminal interests. Rama has used criminals to grab political power, and not they use Edi Rama to strengthen the power of crime.

I call upon the international community and its representatives in Tirana to exert pressure on the government and Prime Minister Rama to force him to take immediate steps against organized crime and to urgently start the process of the decriminalization of politics. Today, organized crime is a risk for everyone.
The request of the PD to dismiss Mayor Dako comes one day after the reported that he had assured the early release of Durrës Gang leader Lulzim Berisha by offering him employment at the municipality.
US ambassador Donald Lu earlier called the release "unacceptable" and a decision of "corrupted courts."