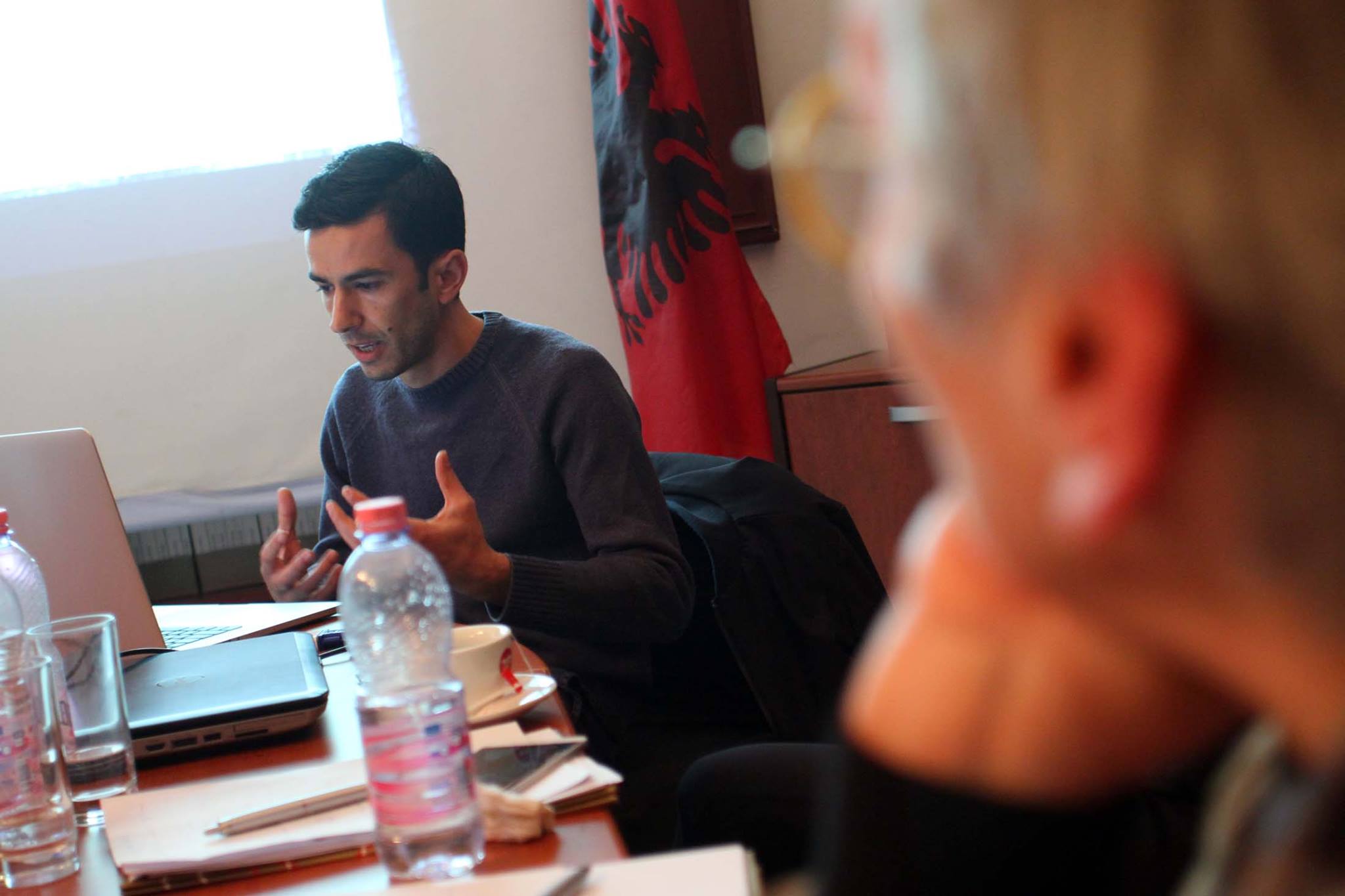 Artist Leonard Qylafi and curator Vanessa Joan Müller will represent Albania at the 57th Venice Biennial with the project "Occurrence in Present Tense."
After an open call organized by the Ministry of Culture, the project of Qylafi and Müller was the selected by an international jury consisting of Marco Scotini, curator of the previous Albanian pavilion; Flaka Haliti, who represented Kosovo at the previous Venice Biennial; writer Eleni Laperi; and art theorist Gëzim Qendro. The jury was headed by Julia Fabenyi, director at the Ludwig Museum in Budapest.
Fabenyi, a relatively unknown curator, is generally considered to be a political appointment of the xenophobic, right-wing government of Viktor Orbán. Her appointment was met with protests from the Hungarian art scene. Fabenyi previously collaborated with the Ministry of Culture on an exhibition exchange between Hungary and Albania.
According the project description Qylafi and Müller's proposal for the Albanian pavilion revolves around the concept of translation:
How are personal experiences shaped by a country's official image of the past? How do these images change and where do they blur? Leonard Qylafi's paintings, some of which will be produced specially for the exhibition, highlight the fragile status of the image as a container of the past.

These paintings will be presented alongside selected books that point to the artist's personal struggle to become an artist and the role that art played in Albanian society now and then. How do ideas and knowledge affect the intellectual and cultural understanding of oneself? How do they shape the "reading" of present and past filtered through an ongoing stream of images?
Other competitors were artist Genti Korini, curated by Nathalie Hoyos and Rainald Schumacher; Arbër Elezi, Lori Lako, and Romeo Kodra; and Bujar Luca, curated by Serge Plantureux.
Leonard Qylafi (b. 1980) graduated from the painting department the Academy of Fine Arts of Tirana in 2003. He is an Albanian artist working in different mediums such as painting, photography, and video, whose work has been exhibited internationally in spaces and institutions such as MUCEM museum Marseille; IZOLYATSIA Foundation (Kiev, Ukraine), 55th October Salon (Belgrade, Serbia), Kunstlerhaus Bethainen (Berlin, Germany), Kunst Raum Riehen (Basel, Switzerland), MODEM – Museum for Modern and Contemporary Arts (Debrecen, Hungary), Kunsthalle Karlsruhe (Germany). Participant at Tirana International Contemporary Art Biennial 2009, he has been the subject of two solo exhibitions held at Zeta Gallery Tirana. Qylafi has been awarded several residency programs: NIFCA – Nordic Institute of Contemporary Art (Helsinki, Finland), ISCP (New York, USA), KKA – KulturKontakt Austria (Vienna, Austria), and TICA – Tirana Institute for Contemporary Art (Tirana, Albania). He is the winner of Ardhje award for Albanian young artists in 2008. He lives and works in Tirana, Albania.
Qylafi's work is currently exhibited in the National Gallery of Arts, for the exhibition Onufri XXII – Stranger Than Kindness, curated by Fani Zguro.