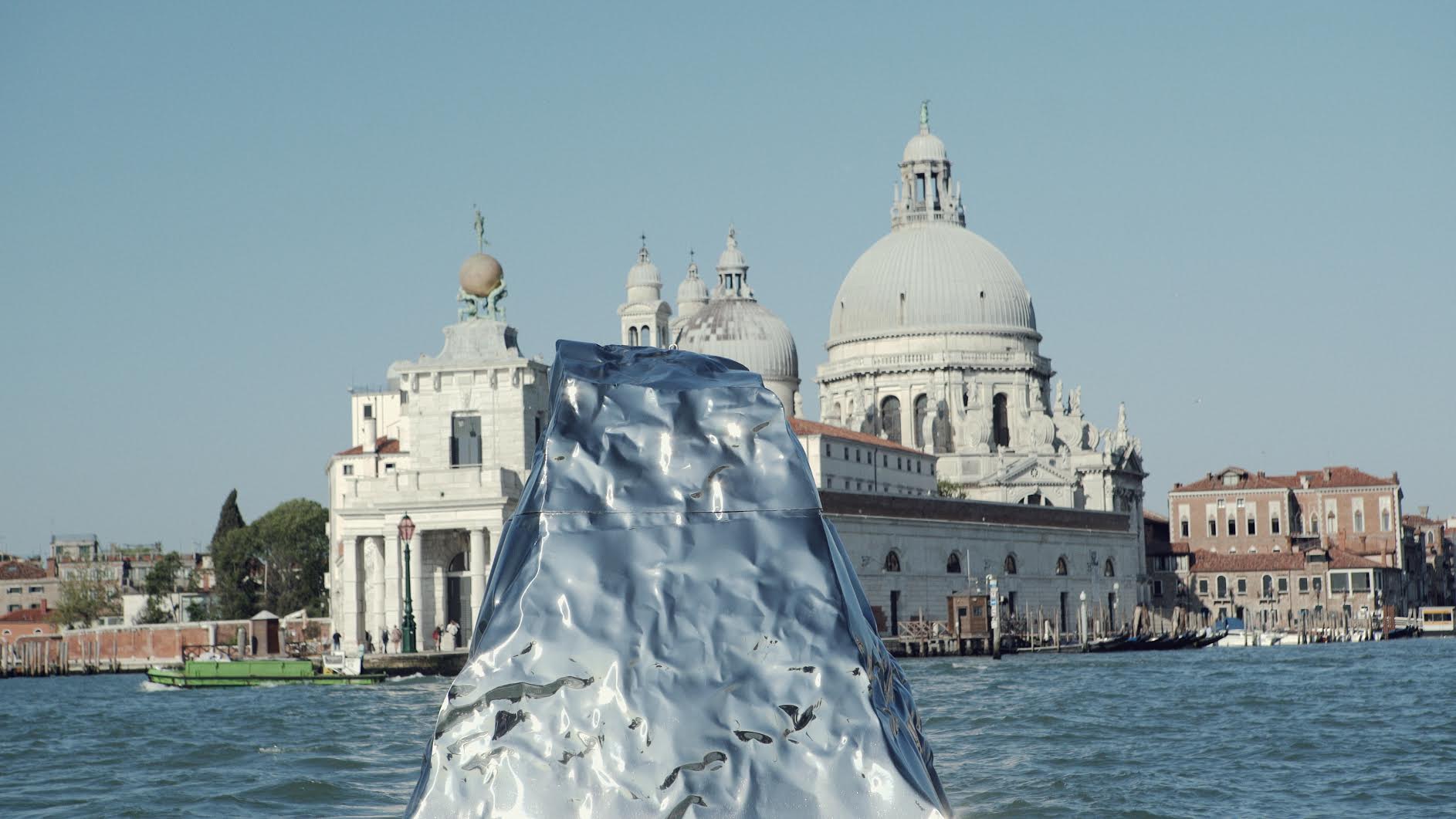 A Syrian prologue
The announcement poster of Onufri XXII, the annual international art prize named after the 16th-century icon painter that is one of the last, dwindling remainders of Edi Rama's short stint as Minister of Culture at the beginning of his political career, features a work of Helidon Xhixha, "Iceberg."
The "Iceberg" was part of the Syrian pavilion at the 2015 Venice Biennial. At the time, and still today, Syria was plunged into a bloody proxy war in which different world "powers" test each other's bloodthirst over the bodies of innocent people. The Syrian pavilion, mainly sponsored by Italy, largely failed to respond to this historical situation.
In fact, it is typical for a certain type of art to react to political and military violence with cowardice and aversion, such as in case of the pavilion's curator, Duccio Trombadori, who was perverse enough to claim that "The intention here is to show that while politics and history are divisive, art is not." Moments after he spoke those words a sparkling rainbow appeared over Aleppo.
Whatever. In short, the stainless steel Anish Kapoor ripoff that is not even part of the exhibition has now ended up on the Onufri poster. That there was no work inside the show worthy of featuring as its advertisement is in itself telling enough.
The fridge on the second floor
Different from the previous editions, this year's Onufri exhibition is held on the second floor of the National Gallery of Arts, instead of in the temporary exhibition space on the ground floor. This in itself should be reason to rejoice. Finally, after first being occupied by Tahiri's confiscated icons deteriorating in humidity and dust and then used for an exposé of governmental urban requalification propaganda, the second floor is back in use for contemporary art, as it once was.
But I also quickly understood why Xhixha's iceberg, a work that is otherwise not part of the exhibition, was on that poster; the space was freezing cold, an art fridge where the museum guards huddled together near small heaters, packed in several layers of sweaters and coats. While the suave and well-funded air conditioners of the Centre for Openness and Dialogue are wafting a gentle breeze onto Flaka Haliti, the works of Jakup Ferri, Leonard Qylafi, and others are experiencing the onset of the next ice age – in eager anticipation of their eternal preservation in the artic climate of the all but abandoned and bankrupted National Gallery.
The death of Onufri
The interest for the Onufri International Art Prize has been steadily dwindling over the years. After its initial importance to the Albanian art scene in the late 1990s and early 2000s, the governance of the prize during the Berisha government was handed over to the painting and sculpting corpses haunting the corridors of the art academy. Its prestige plummeted. With the arrival of Edi Rama there was hope that the art prize would receive a new impetus and regain its relevance. But unfortunately, his own incurable egomania and the lack of vision of the Ministry of Culture has slowly driven Onufri to extinction. This year's instalment is its funeral dirge.
Whereas barely disguised propaganda spectacles are announced weeks ahead, and the most minuscule fragment of possibly positive "heritage" news is telescoped to epic proportions, the governmental Facebooks and Twitters remained utterly silent about Onufri until a day before its opening, simply copy-pasting the non-sensical press announcement from the Gallery. No enthusiastic, personal blurb by Kumbaro. No live-streamed verbal diarrhoea of Rama. Nothing.
So, with such a lack of governmental care and attention, this thing better be scandalous! Not so.
Whatever, thrown together
This year's edition, curated by someone called Fani Zguro, is called "Stranger than Kindness." It is dedicated to Albanian author Mitrush Kuteli, mainly known for his book of Albanian mythical tales Tregime të moçme shqiptare. The exhibition's title comes from the eponymous Nick Cave and the Bad Seeds song. I read the lyrics. I read the book. I watched the exhibition. But a relation I did not find… so perhaps the absence of any tangible relation between the works is the theme of the exhibition? An anticuratorial gesture?
Initially, the exhibition tries to show its own disjunction. The opening, below the stairs to the second floor, with Yllka Gjollesha's stack of printed-out video frames and Khaled Hafez's multiple-split-screen videos, seems to thematize this (I'm really trying here to stay positive).
But then upstairs it all falls apart. In terms of color, the large, faded and inverted photorealistic paintings of Leonard Qylafi (who will represent Albania at next year's Venice Biennale), the colorful handicraft of Jakup Ferri, and the drawings of Guri Bulovari share a certain vibrancy, but they are thematically and technically completely different.
Whereas Qylafi's detached work references military aggression and parades, Ferri's work evokes homeliness and the warmth of family life. You really feel like wrapping yourself in his drapes.
Bulovari's naive work is perhaps closest to an "homage" to Kuteli in its invocation of music and dance and its citations of Mozart and Stravinsky, Flaubert and Lasgush Poradeci. It is also the most touching and remarkable work of the exhibition. Brought together in a giant, fantastical collage, it has an overwhelming impact, and one can only stay mesmerized in front of it.
The reason it has this impact, which in other contexts would perhaps be absent, is because it is the only work in the entire exhibition that actually wants to engage with you, that tells a story, and does so in spite of the anemic and stone-dead "exhibition" around it. Because simply, Bulovari doesn't care. He has no connection with anything that this exhibition pretends to stand for: "international" art, institutions, prizes, failing government policies, delapidated art galleries, frustrated artists… It is completely immune to all of this, and that's why it's so powerful.
If Onufri is truly a "competition," its only winner can and should be Guri Bulovari, an 80-year-old, self-taught music lover from Lin. When he came to Tirana to install his work, no doubt his first exhibition in the capital, he bought a violin. He can't play violin, but he'll learn.
Other potential storylines are more difficult to distinguish. The collages and cut-ups of Pablo Helguera, vaguely thematizing the vocal tract and body movement, could talk to Bulovari. But does Bulovari care to talk back?
The two cheapest pieces Helidon Xhixha could find in his studio (his work is even more pathetic on a small scale) share some of the structure of Steve Piccolo's photographs, but is that enough to establish a conversation?
The exhibition further falls apart once we move to works that are less prominently displayed. Inexplicably, two entire rooms and a piece of wall are filled with "early" paintings of Klodian Pasku. I baffled at an entire dark room dedicated to an overly pretentious three-channel video installation by Ilir Lluka, which like some student art project determined its own genre: "Audiovisual Poetry, Surrealism, Psychological." The work, entitled "Further Inside," was a cheap YouTube meditation video pretending to evoke the oceanic feeling of the womb and female sexuality. Very deep and "psychological" indeed.
Why dedicate entire rooms to single artists with mediocre works, while another dark room shows more than twenty(!) videos, one of which nearly an hour long, in alphabetical order on a continuous loop? By the time you've watched them all, you'd be frozen to your chair. I watched part of the late Bert Theis's seminal art/activism work dealing with the Isola neighborhood in Milan, but was too cold to watch more.
In general
Perhaps the work that best encapsulated this Onufri edition, the government's attitude, and its reception by the arts community, was Ergin Zaloshnja's "I COUDN'T CARE LESS."
I had to switch on the projector myself, and select from the inserted USB stick the image that it was supposed to display (apparently the guards couldn't care less either). The projected image showed five white coffins, marked S.B., E.R., I.M., and L.B. – the initials of the main Albanian political protagonists of today. The final coffin remains nameless – nameless because the bones inside are known by all, or by no one.
Leaving the exhibition the only thing that can be said is that Zguro, the "curator" (I really cannot write this without scare quotes), did an abominable job. In spite of the fact that the space was ready to go, in spite of the fact that many artists paid for the transportation of their own work, in spite of the fact that some of the works are actually good and could potentially work with each other, he let the entire thing go to waste. No text. No meaning. No nothing. One wonders where the little budget that was available went to. Buying the image rights to Xhixha's Venetian iceberg, perhaps?
In "Stranger Than Kindness," Nick Cave sings "You caress yourself / And grind my soft cold bones below / Your map of desire / Burned in your flesh / Even a fool can come / A strange lit stair / And find a rope hanging there / Stranger than kindness."
But it was no fool who hanged himself there on top of the stairs. If anything, I witnessed the corpse of Onufri – or at least, his coffin.
The Onufri International Art Exhibition XXII – Stranger than Kindness – Mitrush Kuteli is open until February 1, 2017.
P.S. Although Anri Sala's name is on the poster, he's not in the exhibition. Don't believe the government's lies.