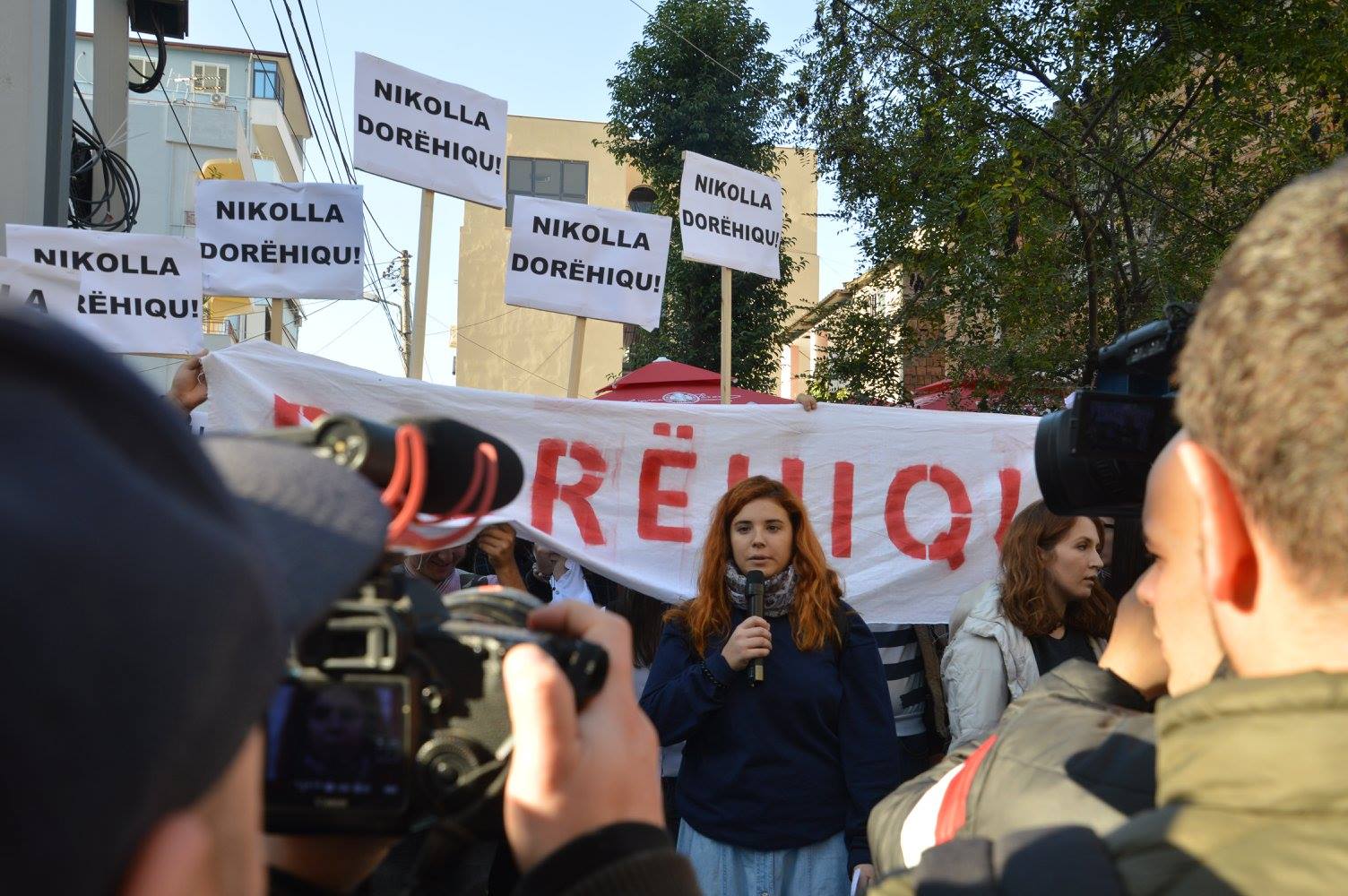 Vitori Çipi didn't quite convince the police officer when she took a seat at the first row available to the group of defendants. Shortly after, another girl, Bora Mema, took another seat…
A couple of rows adjacent to them were occupied with students. It was a small court room, in the basement floor of the Criminal Chamber of Tirana and eight defendants, all students from "Movement for the University" were called to become acquainted with the final decision of the Office of General's Prosecutor.
This was case number 8834, opened in October 2015, coming to a closure at the beginning of spring.
Only a few minutes later the General Prosecutor would declare them guilty or not based on the facts presented by the court police of division no. 2, accusing these young students of throwing eggs at the Prime Minister during his visit to the Faculty of Social Sciences.
Seldom did a court require more courage than a protest. Let us see!
Everybody rose when judge Micko entered the court room. The court session opened with legal formalities. Then, as expected, the word passed to the prosecutor for the final argument.
It was 14:50, on February 27, in 2017, court room no. 9 and prosecutor Julian Zonja read out the following. According to him there were facts that proved the penal act and all eight defendants must be declared guilty.
The assault, added prosecutor Zonja, has not resulted in any consequences, but considering the act of performing it can be considered a criminal act.
He demanded two months in prison and a guilty sentence for the accused students. But using mitigating circumstances he dismissed the aforementioned sentence and asked for its substitution with 60 hours of community work.
The Prosecutor's Office did not qualify whether the egg had reached its desired target!
Through the lines of the final decision, this sentence did stands out:
from the observation of the place where the event took place, an egg assault was documented, but juices and stains were found only in the school yard.
In defense of the students, attorney Dorian Matlija declared:
The Prosecutor's Office based its accusation upon the police's data and other pretended filmed videos that were never shown in the court room. Witnesses were often time unsure to prove the accusations. The police were unable to tell which one of the defendants had thrown the egg.
The reaction at the court room wasn't one of surprise. The students left in silence, like they had entered, but united.
In front of the cameras, in the courtyard, Bora Mema declared that this is a political court that violates a constitutional right, the right to protest.
They will provide their defense on March 13, at 12.30.