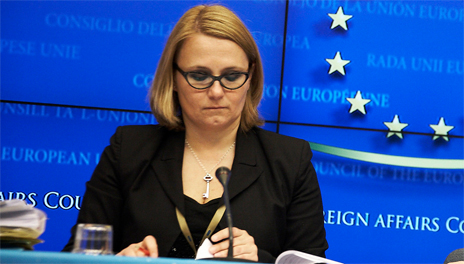 In an unprecedented and aggressive manner, European Commission spokesperson Maja Kocijančič sent a letter to New Europe news website, in which she claims that its articles are "factually incorrect, contain fabrications and slander." Kocijančič stated that this was "particularly obvious" in New Europe's reporting on the acquisition of the EU residence in Tirana.
However, Kocijančič was unable to provide any proof of slander or evidence that the acquisition of the EU residence in Tirana was legitimate.
This is not the first time that the EU attacks the free press. In February, EU Ambassador Vlahutin claimed she was the target of "fake news" fabricated by "political and criminal interest groups," without providing any evidence or proof.
In response to questions by the European Parliament's Budget Control Committee about the acquisition of the villa, the European External Action Service (EEAS) stated that reports about possible EU corruption were part of an "aggressive disinformation campaign from local media."
Now let us look how the EU actually deals with its own documents and the facts in this particular case. Both New Europe and Exit filed freedom of information requests concerning the documentation of the real estate purchase. Among others, this documentation was supposed to include an "evaluation carried out by an independent expert" and a "report of the Regional Security Officer of the EEAS."
The EEAS has several times refused to provide New Europe with the independent expert report, citing "confidentiality." However, the same report was readily provided to Exit [pdf]. Similarly, the EEAS failed to provide Exit with the security report, which was however sent to New Europe.
At least, we should conclude from this behavior that the EEAS applies its own confidentiality rules inconsistently, thus violating the rights of EU citizens to have access to documents that show how their tax money is spent.
Instead of attacking the press, the EEAS should review its "confidentiality" clauses and decide: either be subjective, inconsistent, and authoritarian or be objective, consistent, and transparent.
Because only the latter attitude will take away the doubts around its corruption in Albania.