Yesterday the Regional Cooperation Council (RCC) presented in Brussels the 2017 edition of the Balkan Barometer, "an annual survey of citizens and business communities' opinion on the situation in the region." The RCC was founded in 2008 as an "all-inclusive, regionally owned and led cooperation framework" in South-Eastern Europe.
The Balkan Barometer measures the socio-economic situation in the Western Balkans on the basis of 100 questions posed to 1,000 Albanian citizens above 18.
As regards Albania there are a few remarkable and worrying results. First of all the strong effect of the government propaganda that Albania is "soon" opening EU accession negotiations and the failure of the EU Delegation in Tirana to temper the high expectations.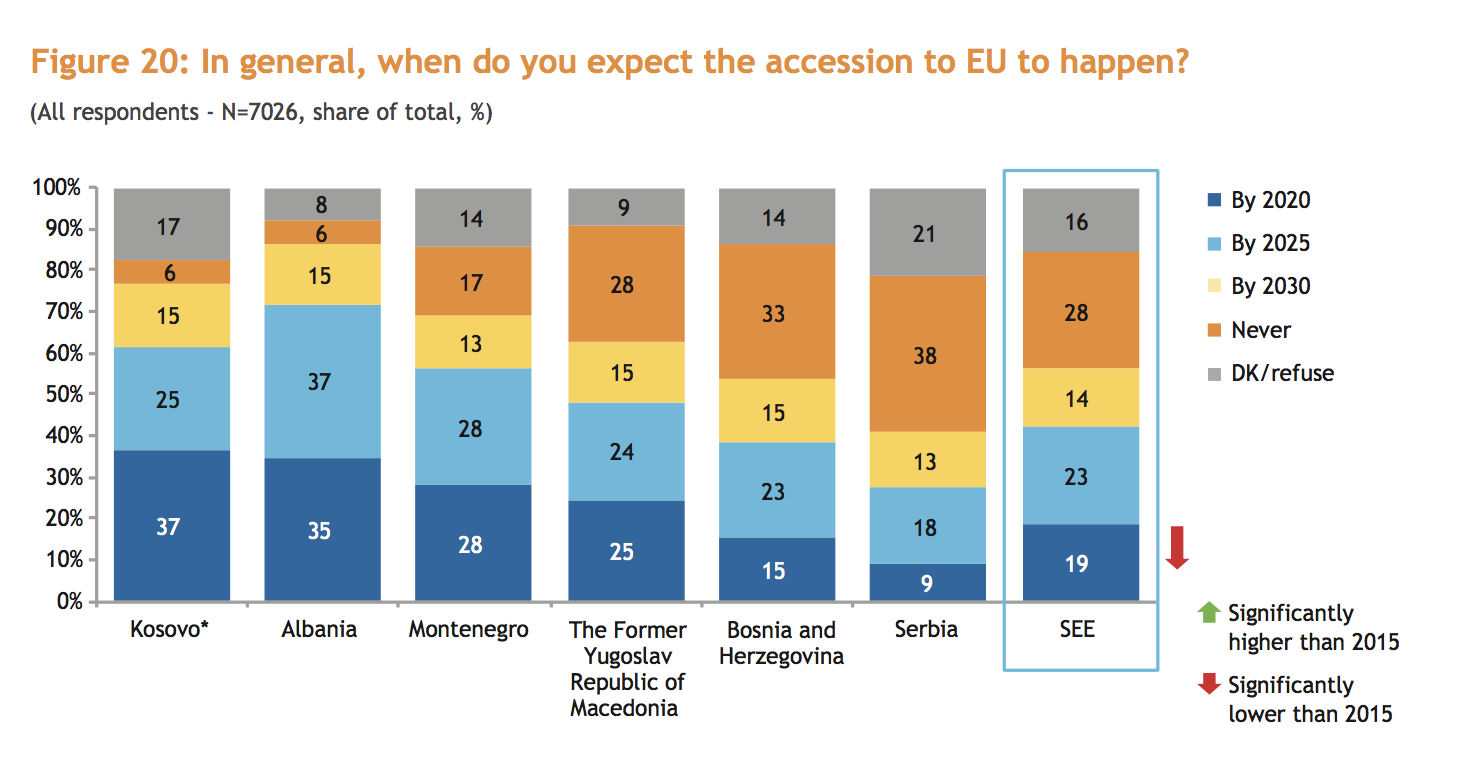 Of all countries in the region, Albania is by far the most optimistic about the accession year. 72% of interviewed Albanians think that Albania will join the EU by 2025 latest, even though in Serbia, which is expected to join no earlier than 2029 even though it has already opened accession negotiations, 38% of the interviewees thinks it will never join.
Another number is also significant as to what the EU represents to Albanians. 55% of the interviewees wants Albania to join the EU in order to work or study there – in other words, to leave Albania. This matches the high illegal immigration numbers from Albania to the EU of recent years.
As regards the socio-economic data the picture is even more gloomy. 23% of the interviewees describes themselves as unemployed, the highest number in the region. In order to get a job, 46% thinks that friends or family "in high places" are important. This number went up from 30% in 2015, showing the extent to which nepotism has spread under the Rama government.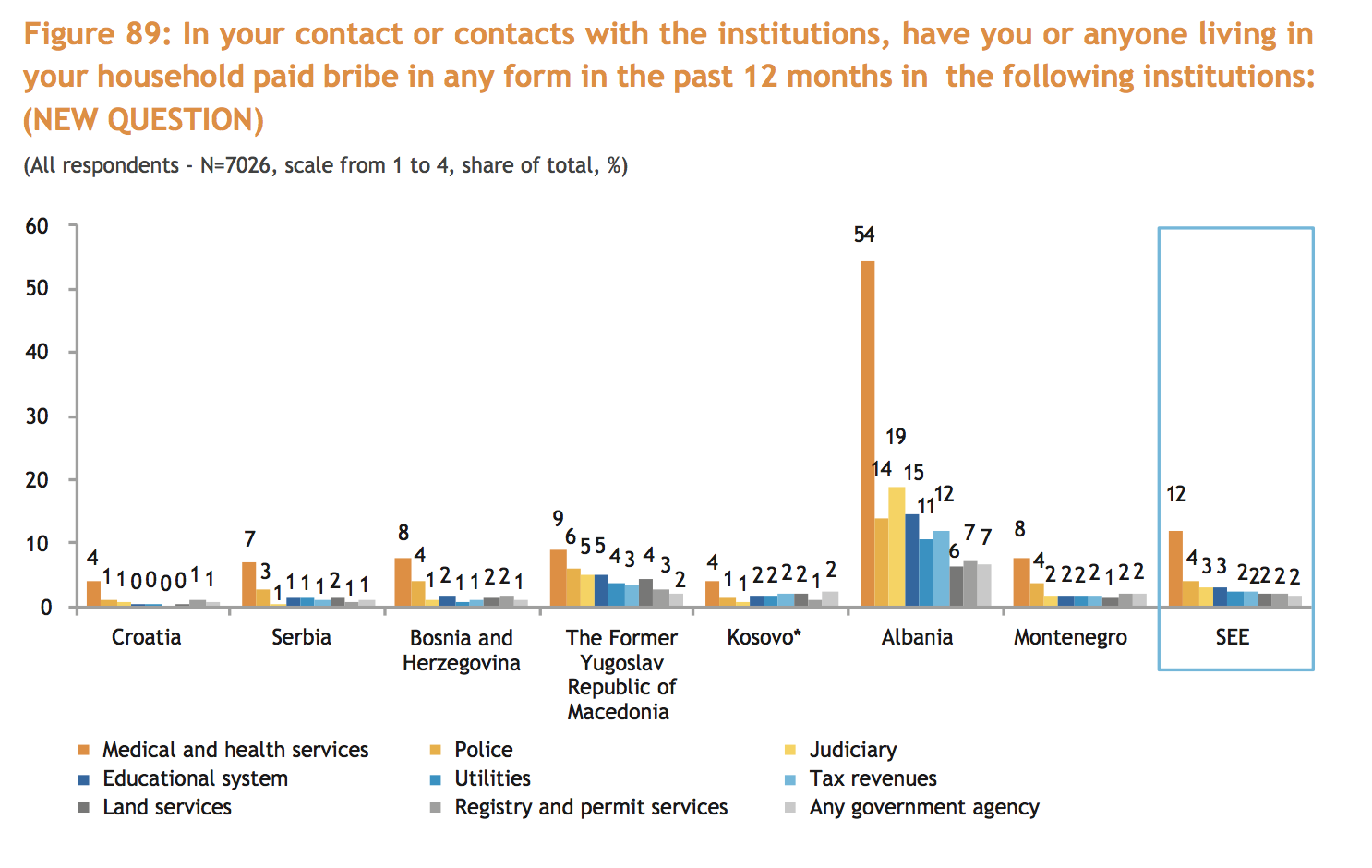 With nepotism comes corruption. A staggering 54% of the Albanian interviewees reporting paying a bribe to a medical or health institution in the last 12 months, while 19% has bribed a judge or prosecutor, and 14% has bribed a police officer. As the report dryly notes:
Albania seems to be convincingly ahead of other economies in the region when it comes to the prevalence of bribes.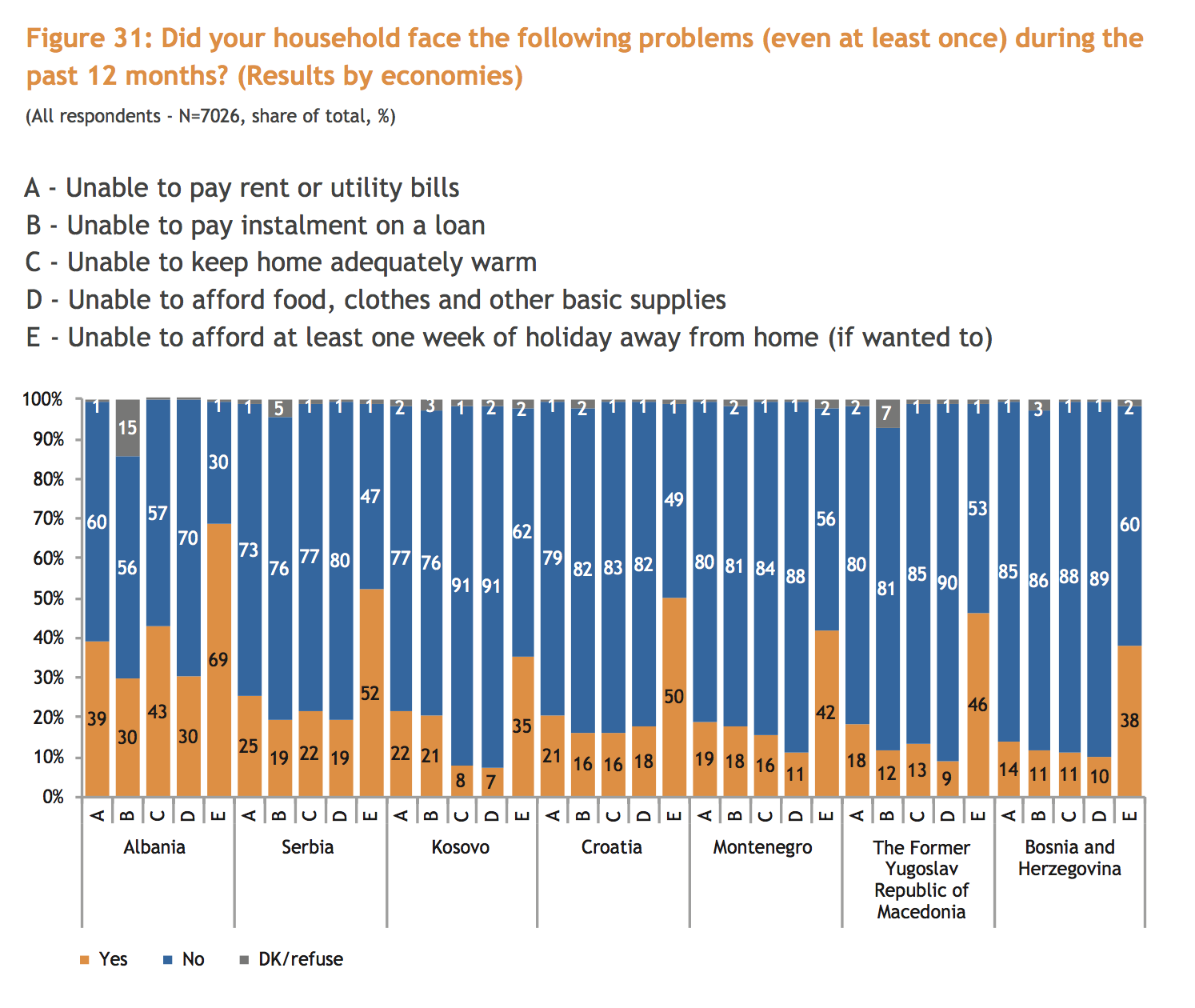 Finally, the data from the Balkan Barometer show that nearly half of Albanian interviewees report not being able to keep their house adequately warm, while 69% has no money even for a week of holiday per year. 39% of the interviewees are unable to pay their rent or utility bills.
So this is the sobering truth that appears from the report: compared to the rest of the Western Balkans, corruption and poverty rule in Albania, and there is only one solution: to enter the EU and legally leave the country.