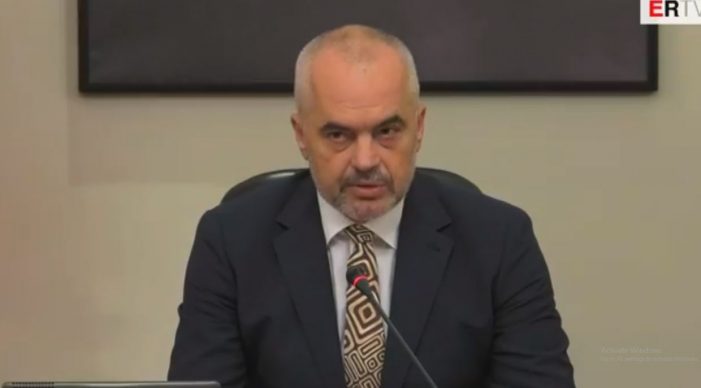 Caught in the firestorm of the revelations surrounding the relations between Moisi Habilaj, arrested yesterday by the Guardia di Finanza of Catania, Italy, and former Minister of Interior Saimir Tahiri, one of the closest confidants of Prime Minister Edi Rama, the latter asked the prosecution and police to get "to the bottom" of the drug trafficking activities of the Habilaj brothers and the alleged involvement Tahiri in an attempt to distance himself from the scandal.
Referring to a leaked wiretapped conversation of Habilaj, in which Tahiri is mentioned as the recipient of €30,000, Prime Minister Rama stated:
What has come out of the talks of two criminals is disgusting and shocking!

I have known Saimir Tahiri for years and I have had only supporting and encouraging words for him, as a person with good aims, ability, and integrity.

But Albania and the Albanians today want and deserve to know the truth, only the truth and nothing but the truth. That's why all law enforcement organs should get to the bottom of this story without losing time, to throw a full light on the facts.
Tahiri has always denied the accusations against him, which first became public in September 2015, when he was still Minister of Interior. Back then, he said that he would ask publicly for forgiveness should it turn out that the Habilaj brothers are indeed drug traffickers:
I would feel morally hit if the persons in question turned out to be traffickers, I will ask the public forgiveness for having sold my car to some traffickers. I would say publicly that I have made a mistake because I have sold my car to some traffickers.
Not only did Tahiri "sell" his car to the Habilaj brothers, he failed to change the registration, which meant it was registered in his name while it was being used to smuggle drugs across the Greek border.
Yesterday, when the news broke that Moisi Habilaj had been arrested, Tahiri merely demanded "justice until the end and maximum punishment," while attacking opposition leader Lulzim Basha for seeking his arrest. He has not yet publicly apologized.
Tahiri was expected to visit the General Prosecution today for a meeting with Chief Prosecutor Adriatik Llalla, but sources within the Prosecution state the meeting was cancelled.