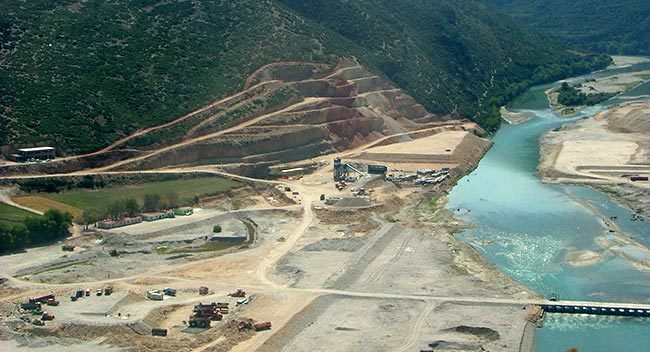 The Kalivaç hydropower plant, which has already turned into one of the most costly legal affairs of the Rama government, has been given in a 35-year concession to Fusha shpk, one of the construction companies closest to Prime Minister Edi Rama.
The decision to award the €125 million tender to finish the construction and management of the hydropower plant was announced earlier this week by the Ministry of Energy.
Two offers were made for the international tender, opened in May 2017:
Doko shpk, a consortium of Gener 2 and Favina
A consortium of the Turkish company Ayen Enerji and Fusha shpk
According to the ministry, the construction of the hydropower plant on Vjosa river will take two and a half years.
A €4 million legal battle
The Albanian government is currently involved in a legal battle at the International Centre for Settlement of Investment Disputes (ICSID) after Italian businessman Francesco Becchetti filed a lawsuit against the Albanian government against the November 2015 decision of Prime Minister Edi Rama to stop the construction work on the hydropower plant, the concession of which was owned by Becchetti.
Becchetti and his company Hydro srl appealed to the ICSID for the economic damage caused by the decision of the government to freeze all of Becchetti's and his companies' assets in Albania.
Until the end of 2016, the Albanian government spent more than €4 million on legal costs to defend itself at the ICSID against Becchetti.
According to the ministry, despite the arbitrage procedure has not finished, it is clear that Hydro srl has requested only compensation and not reinstatement of the concession contract. This would give the government the right to award the Kalivaç project to another company.
The destruction of unique ecosystem
The construction of the Kalivaç hydrocentral will destroy the entire ecosystem of the Vjosa, one of the last wild rivers in Europe.
The project has been opposed by international scientists, environmental activists, and the European Parliament. 228 scientists from 33 countries signed a petition last year opposing the construction of the dam, requesting a moratorium on dam construction.
In May, the Administrative Court stopped the construction of another dam, in Poçem, as crucial documentation was lacking regarding the environmental impact of the project was lacking.
Meanwhile, the Rama government has consistently ignored calls to cancel the construction of dams in the Vjosa.