In recent days, familiar fences have sprung up on the Western side of Skënderbeg Square, between Rr. e Durrësit and Rr. e Kavajës. With the square project itself barely finished – Veliaj announced a second phase in which large parts of the surrounding areas will be renovated – another construction site seems to have opened, thus ensuring continued pollution of the center through construction dust and heavy machinery blocking up to overloaded arteries of the city.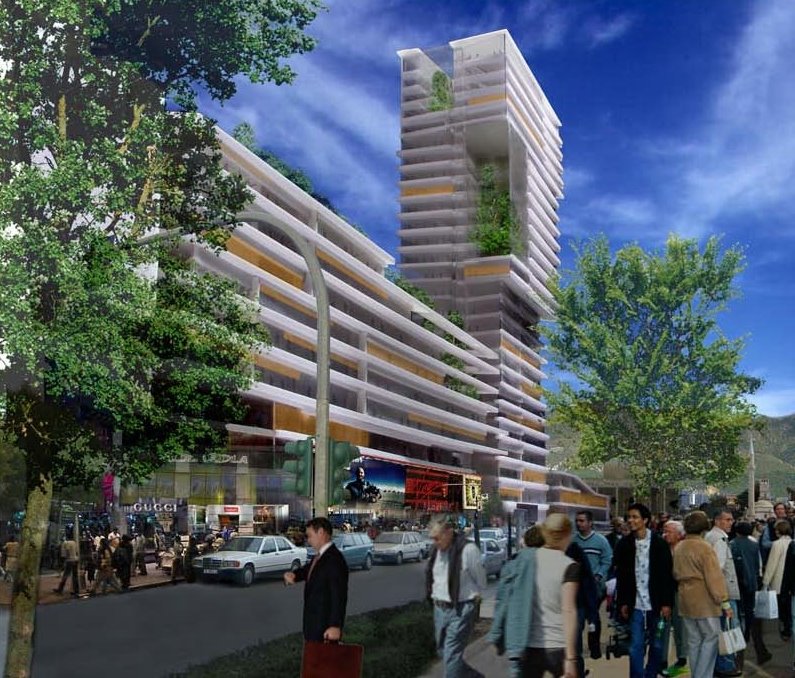 The building to be constructed is called The Eyes of Tirana and is the result of an architecture competition from 2003 set up by then Mayor of Tirana Edi Rama, which was won by the Danish Henning Larsen Architects. Construction work was planned to be completed in 2005–2007, but got delayed ten years. The project will comprise
flats, offices and shops totaling 55,000 m2 with a 26-storeyed tower as landmark. Situated in the city centre the building will be the first visible result of a large-scale ambitious masterplan for Tirana.
The masterplan in question is not part of the recent masterplan developed by Stefano Boeri, but the first masterplan for the city [developed in 2003 by Architecture Studio. In other words, the Eyes of Tirana is part of Rama's masterplan, and has nothing to do with Veliaj's recent claims about "orbital forests" and parks everywhere – a claim we now know to be false.
The Eyes of Tirana will be developed by Edil Al-It, a company owned by the Dulaku brothers, who are very close to Prime Minister Edi Rama. They recently won also the tender to renovate the Theater of Opera and Ballet, across Skënderbeg Square in the Palace of Culture. They are also the owners of TV channel Vizion Plus and as such have systematically attacked independent journalists.