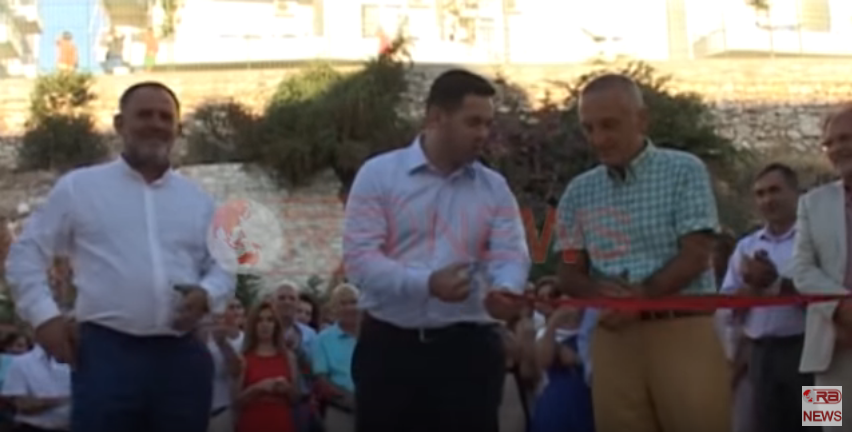 On Friday, the Police of Saranda has confiscated Santa Quaranta, a luxury complex owned by Klement Balili, who is suspected by the Greek and Albanian police of being the leader of an international drug trafficking organization. The decision for the confiscation of all the properties of the former Director of Transport in Saranda was made by the Court of Serious Crime after a request of the prosecution on November 19.
The prosecution's request one and a half years after the the Balili affair became public.
The affair first came to the public's attention with the arrest of 15 people by the Greek police on May 9, 2016, belonging to Balili's organization. A Greek national arrest warrant is issued. CNN Greece publishes rumors that Klement Balili cannot be arrested in Albania because "in Albania this person has relations with political parties and contacts with high-level politicians." In fact, current President Ilir Meta, Minister of Finance and Economy Arben Ahmentaj, and former PS "Czar of the South" Koço Kokëdhima joined Balili in opening Santa Quaranta in 2015.
On May 11, Balili gives an interview for News24 stating that "I am not related to the accusations of the opposition, I have a clean record. Anyone who mentions my name will see me in court." On May 12, then Minister of Justice Ylli Manjani states in Top Story that "if we are referring to a concrete name, Mr. Balili has up to this moment no criminal record in Albania. He is a free citizen." Nevertheless, on May 13 the Police of Saranda receives the order to arrest Balili, but cannot find him. An international arrest warrant is published on May 17.
Then Minister of Interior Saimir Tahiri, currently under investigation for drug trafficking, states in Top Story that "on May 7 or 8 the police has made several requests at the prosecution to arrest him, but they refused because they had no data about this person. […] Until the moment I entered the studio, there has been no order to arrest him. Someone cannot be arrested only because the media are saying so."
On October 30, Klement Balili speaks out in the Greek newspaper Ethnos, claiming that the accusations toward him are political and aim to damage Prime Minister Edi Rama. Prime Minister Rama does not explain how Balili's incrimination damages him.
On December 10, 7 months after the release of the Greek arrest warrant, the Albanian police organizes a large police action in the south of the country to capture Balili, without any result. This is the first action taken by the police since May. The brother of Klement Balili state in the Albanian media that Balili has been Saranda the entire time and that there has never been an arrest warrant from the police. He claims that while the police invaded Saranda to arrest him, Balili had been in Tirana on business.
Nearly a year later, yesterday, Balili's properties are confiscated.