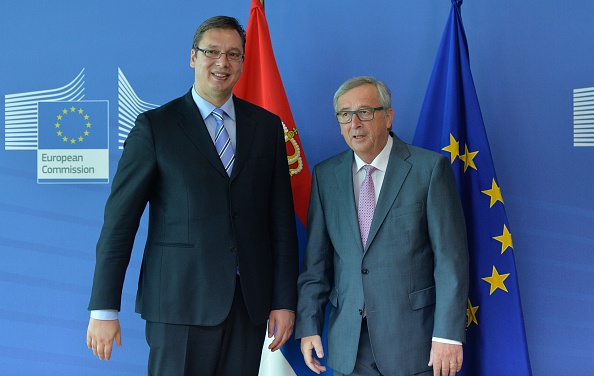 In recent days, the European Commission has been hosting political leaders from Albania and Macedonia, anxious about their upcoming Progress Report next spring. Reading through the transcripts of European Commission President Jean-Claude Juncker and High Representative Federica Mogherini you can notice that their statements for both countries are practically interchangeable.
With Albanian Prime Minister Edi Rama, Mogherini spoke of "enormous work […] that can open the way to further steps towards the European Union integration path," while she treated Macedonian Prime Minister Zoran Zaev to the following meaningless tautology: "The progress of the Republic of Macedonia is visible and this is a good sign of the country's progress in European integration processes." Zaev and Rama received a pat on their back and doggybag of verbose rhetoric that they can microwave for their audience at home, but no concrete promises were made.
Prime Minister Rama tried again to gain some leverage by talking about the "options" of turning to Russia or China, but so far no one at home or abroad seems to have taken these nostalgic statements seriously.
Juncker and his colleagues, however, are very much concerned that the relative peace in the Western Balkans (WB6) will be disrupted by the different speeds at which the WB6 are integrating into the EU. A recent ploy to offset these difference was to propose a WB6 Economic Area, which would somehow tie the economic fate of the 6 neighbors together. However, as is always the case, the political reality is very different from the economic one.
In his State of the Union on September 13, Juncker announced that in order to maintain "stability in our neighbourhood, then we must also maintain a credible enlargement perspective for the Western Balkans." The word "credible" is of course key here, because for some countries this perspective is more credible than for others.
In the European Commission's "Roadmap for a More United, Stronger and More Democratic Union" that accompanied the speech, February 2018 is clearly marked as time to formulate a "Strategy of the Commission for a successful EU accession of Serbia and Montenegro as frontrunner candidates in the Western Balkans," with a perspective on accession in 2025. No other countries of the WB6 are mentioned.
This announcement must have been a bitter pill to swallow for Tirana and Skopje, but it also continues to haunt Juncker. In his press conference with Prime Minister Rama this week, Juncker responded rather aggressively to a question regarding the earlier accession of Serbia and Montenegro:
In my speech on the State of the Union I didn't mention Serbia and Montenegro… Ok? So don't say that I said that Serbia and Montenegro are on the point to jump into the European Union.

I had a discussion yesterday with one [sic!] of the leavers. I had a good and friendly, polite, engaged discussion with someone who does want to join the EU. I do want Albania to join the EU one day and that's the reason why I do think that we are close to the point where I can recommend to the Council the opening of negotiations.
It is true that Juncker didn't mention Serbia and Montenegro in his speech, but they are clearly part of all the letter of intent and roadmap attached to it. And again: none of his is surprising. After all, Serbia and Montenegro already started negotiations and will therefore – unless there is a radical shift in regional politics – enter the EU before Macedonia and Albania.
The political reality will therefore be that Montenegro and Serbia will have to vote in favor of the accession of both Albania and Macedonia, and as such will hold leverage over both. For at least in the period between their and our accession, which may last years if not decades, they will represent the EU as much as Belgium, Poland, or Malta. And this splitting of the WB6 into an EU and non-EU part on or after 2025 risks bringing back the traumas of the past. These repressed feelings of inequality, separation, and inferiority are currently publicly ignored by the Eurocrats led by Juncker, and unless they are addressed ahead of time they will be a risk for the regions's stability in the future.