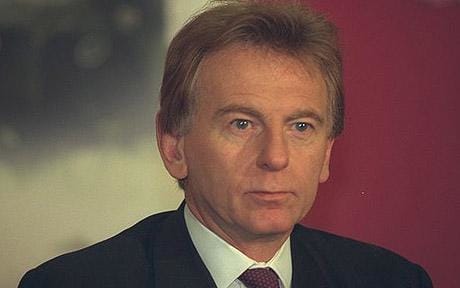 It has become a familiar pattern. Whenever Prime Minister Edi Rama needs pushback against the ever more abundant proof that his government has actively strategically protected drug cultivation and trafficking ever since he came to power, an international sycophant comes out of the rotting woodwork to defend him.
Curiously, in recent times all of his white knights have come from the cabinet of former UK Prime Minister and war criminal Tony Blair. In later July, as Rama was waging his full-blown personal Facebook campaign against "abusive" public servants, former Blair spin doctor Alastair Campbell gave the starting shot with an account of the marvels of doing yoga on Skënderbeg Square, followed by former Minister of European Affairs and convicted fraudster Denis MacShane who praised Edi Rama in Le Monde as being the hope of social democracy in Europe.
In more recent weeks, Rama has been battling against the reality that he knew for months that his former Minister of Interior had been involved in drug trafficking, and actively protected him by insistently denying that the State Police was involved in criminal activity. Recent documents published by Exit show that it is very unlikely he was not aware of the criminal exploits of the State Police and their boss, Tahiri.
These revelations of the ties of his government with organized crime, as well as alarmingly growing presence of Albanian organized crime in several EU countries, ultimately led to a PR counteroffensive doctored by Campbell, who continues to be on the payroll of the Prime Minister, which started with an op-ed in the Financial Times, in which he basically told EU leaders Albanian crime was their own problem.
And now that opposition leader Lulzim Basha has been openly complaining about the unconstitutionality of Rama's decision (backed by the EU and US), to elect a temporary General Prosecutor (PP) with a simple majority – in other words, to handpick the next PP – we suddenly find another concerned former British Minister for Europe, Doug Henderson, writing for EUReporter.
Just like MacShane was convicted for fraud, Henderson has a history of overcharging the British tax payer for their expenses, claiming £151,860 in expenses during a single parliamentary year, including £800 in landline phone calls. After this was revealed, he had to retire as Member of Parliament. So what all these people share is a history with Blair and Campbell, no understanding of Albania, and issues with being responsible with public money.
In his article, Henderson is clearly inspired by Rama's "remarkably candid personal letter addressed to all EU leaders" that he published in the Financial Times. Entire sections are paraphrased. For example, Rama in the Financial Times:
It is worth remembering that for 20 years the drug barons were able to maintain the area around the Albanian village of Lazarat as a safe haven for cannabis production and processing, a no-go area for police and other government authorities.

Such was the drugs trade's clout that one of my predecessors as prime minister acknowledged that non-intervention in the area was his "firm political decision". My government reversed that policy in 2014 and a major police operation closed Lazarat down. The police destroyed "product" representing nearly a quarter of all cannabis confiscated and destroyed across Albania that year.
And Henderson in EUReporter:
Rama campaigned against the grip the drugs traffickers had on government and, in 2013, the SP took power. One of the first steps the new government took was a major police raid on the southern village of Lazarat which, for nearly a decade, had been known as the "cannabis capital of Europe". Production with a street value estimated at €4.5 billion/year was brought to a halt.

Extraordinarily, up to that point, Lazarat had been a "no-go" area for state police. This was reported to be on the instructions of Rama's immediate predecessor as prime minister, Democratic Party leader Sali Berisha, a continuing power within the DP. In 2014 he acknowledged to local media that non-intervention in Lazarat had been his own personal "political decision."
The rest of the article is basically nothing more than a giant rhetorical question: Why is the opposition blocking the EU accession process? The implication being: because Edi Rama is fighting drugs and they are drug lords.
This line of reasoning gives the opposition an agency that they in reality barely have. The opposition is currently completely irrelevant in Albanian Parliament, where Rama – with the backing of EU and US – can literally implement any law or regulation he wants. Rama currently has an absolute majority in Parliament, so whatever this "resistance" of Basha, it is a rearguard fight that has no real impact on Albania's "chances" with the EU. Collaboration with the opposition is not one of the five key priorities.
What Henderson doesn't seem to understand is that the "resistance" of the opposition is merely the opposition pointing to the obvious: involvement of the government in international drug trafficking, a stalling judicial reform process, attacks on the media, and daily reports of maladministration of public money. Every morning, the opposition has a smorgasbord of scandals to choose from, prepared by Rama himself.
Henderson claims the opposition has "initiated a propaganda campaign depicting their nation as drugs-riddled and mafia-controlled," but the sad truth is that all of their claims are factually based on international reports by Interpol, Europol, and other police and intelligence agencies, freely available on the Internet, and distributed widely in EU capitals.
But we understand Henderson. He now has a job that makes it much more difficult to enrich himself on the back of the British tax payer. So when Campbell, whom Rama once portrayed as a phone-wielding Skënderbeg, comes with an envelope of Rama's cash – clean money of course, not at all related to drugs – it is hard to say no.