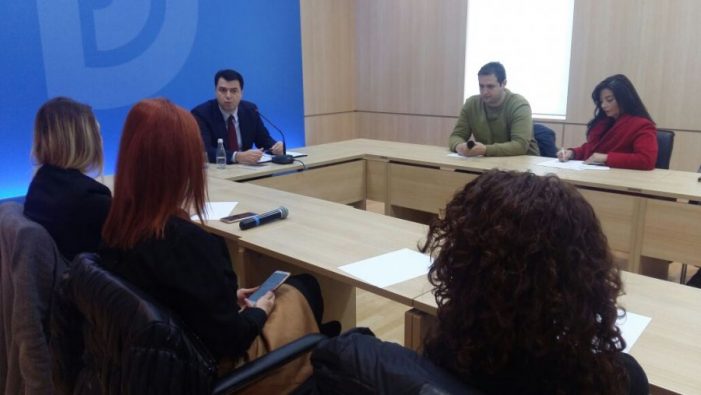 In a meeting with journalists today, PD leader Lulzim Basha once again declared that the attempts of the government to appoint a Temporary Prosecutor General are anti-constitutional, and that the opposition will not recognize anyone nominated as such:
The Constitution does not leave any space for a transitional period or temporary prosecutor. Zero possibility, zero space. Any other institution is anti-constitutional and has zero value. Only the High Prosecutorial Council may take decisions that deal with the mandate of the General Prosecutor. Candidates needs to have passed the vetting.
Basha further stated that the current "deadlock" dead is holding the KLP hostage has been envisioned by Prime Minister Edi Rama in order to nominate one of his associates to the "temporary" post with "indefinite" tenure.
What do we seek? The creation of the KLP. Who is keeping the KLP hostage? It is precisely the failures of the candidacies from civil society that is holding the KLP hostage. The responsibility fully lies with Rama and we have reasons to think it is on purpose.

One year ago, Edi Rama envisioned in law something that contradicts the Constitution, namely the Temporary General Prosecutor, in order to impose him only with his votes. The aim is to liberate [former minister Saimir] Tahiri, [Durrës mayor Vangjush] Dako, [Elbasan mayor Qazim] Sejdini, [minister Damian] Gjiknuri, [minister Arben] Ahmetaj, and himself from all the accusations.
Basha stated that according to the Constitution, respecting the continuity of the institutions, that "as long as the new prosecutor has not been elected, the current prosecutor should continue his duty otherwise he commits a crime."
Asked by journalists about the recent declarations of US Ambassador Donald Lu, Basha declared:
I don't comment and have never commented on foreign ambassadors. I don't understand or imagine that a foreign ambassador would advise the Parliament to vote for something in violation of the Constitution. That would be a dagger in the back of the judicial reform.