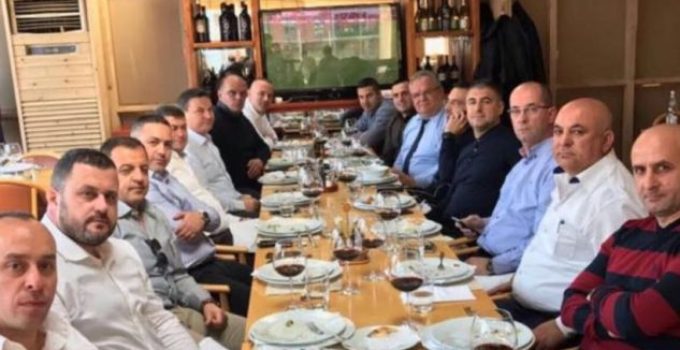 Over the last few days, Exit has published the redacted pages (part 1, part 2) of a state document listing 59 reports drafted for the Prosecution of Serious Crimes (PKR), the State Police Directorate (DPSh), and the Service for Internal Issues and Complaints of the Ministry of Interior (ShBÇA) covering police involvement in drug cultivation, storage, and trafficking from March 3, 2016 to March 9, 2017.
As the beginning and end of the document, which we have christened "Albaleaks," are missing, the precise nature of its origin remains to be ascertained, although several sources of Exit confirmed that the document was drafted by the ShISh, and that the Council of Ministers should have received a copy of each of the reports mentioned in it.
The origin and content of the document cast serious doubts on Prime Minister Edi Rama's vehement and insistent defense of the State Police and former Minister of Interior Affairs Saimir Tahiri, who in currently under investigation for corruption and drug trafficking in a criminal organization.
The document lists 128 individual names of directors, police chiefs, inspectors, and officers suspected of involvement in drug-related crimes. What is remarkable is that these policemen (they are all male) are found in Local Police Directorates (DVP) all around the country: Berat, Delvina, Dibra, Durrës, Fier, Gjirokastra, Korça, Kukës, Lezha, Shkodra, Tirana, and Vlora, and the different commissaries and police stations under them. A good number of them is stationed in units dealing with organized crime, anti-drugs units, or at the border patrol.
We are not talking about low-level personnel: besides dozens of police chiefs and inspectors, the police directors of DVP Berat, Dibra, Gjirokastra, Korça, and Vlora are explicitly mentioned in multiple reports.
On November 2, 2015, PD leader Lulzim Basha attacked Prime Minister Edi Rama and then Minister of Interior Affairs Saimir Tahiri for their protection of police directors of DVP Korça and DVP Gjirokastra. The former is mentioned in a report from November 15, 2016 with the title "The Phenomenon of Cannabis Cultivation in the Country," while the latter is implicated in three reports from April and May 2016 dealing with "State Police employees suspected of involvement in narcotics cultivation."
Jeald Çelaj, the police director from Vlora is currently prosecuted for his involvement in the Habilaj–Tahiri criminal organization, together two others, Gjergj Kohila, the chief of the organized crime sector of DVP Vlora, and Sokol Bode, former chief of the border police in Dhërmi, who are both also featured in multiple reports.
On April 17, 2017, after the discovery of a drug lab, Berat police director Fatmir Lleshaj was officially accused of "administrative violations" and will face as a result "disciplinary measures." He is featured in reports of November 2 and December 12, 2016, both involving the storage and trafficking of cannabis.
The tendency of the State Police to give police officers found to be involved in enabling drug trade or even actively participating it "disciplinary measures" or simply move them around is a common pattern. After Sokol Bode was removed as chief of the border police in Dhërmi, he became chief of the organized crime sector of the commissariat in Puka and continued his work with organized crime from there.
Of the 11 policemen from DVP Lezha that were "moved" in November 2016 to new positions after the discovery of drug warehouses in Rreshën, 3 are featured in one or more reports, and could simply continue their "work" from their new position.
Other policemen seem to be able to continue their march up the police ranks without much trouble. Haki Hasanbega is mentioned early in the document in several reports regarding police involvement in drug cultivation and trafficking. At that moment he is police chief of Commissariat of Tepelena, which falls under the DVP Vlora. By August 2016, Hasanbega has become prominent enough to earn his own reports, dealing with his collaborators in drug cultivation. By then he's moved up the ladder to the central office of the DVP Vlora, and when the Prosecution of Serious Crimes issues an arrest warrant for drug trafficking and membership of a criminal organization in early February 2017, he has become Chief of Order.
Sometimes the contrast between the Albanian government's official "concerns" and the reality on the ground becomes schizophrenic. An example is the director of DVP Berat, who an interview April 2016 states that "the phenomenon of cultivation and trafficking of narcotics is organized and massive." A month later, however, the same director is featured in the report on "State Police employees suspected of involvement in narcotics cultivation," while another report suspects him of being a collaborator of "drugs baron" Alket Hatija, who was recently extradited to Italy to sit out a 20-year sentence for… international drug trafficking.
It thus appears that the names and data from the Albaleaks documents we published are corroborated by the facts reported over the last year and the investigations started by the Prosecution of Serious Crimes. This confirms our belief that these documents are real and show part of the true extent to which the State Police and Border Police have become complicit in drug cultivation, trafficking, and processing during the tenure of former Minister Tahiri.
The documents show convincingly how the ShISh (or another state service) consistently warned the State Police and Rama government of these facts, and how the reality portrayed by Prime Minister Edi Rama was, in fact, one giant lie.
Prime Minister Rama must have known about the massive police involvement in the drug trade and chose to do next to nothing. It has profited him well.