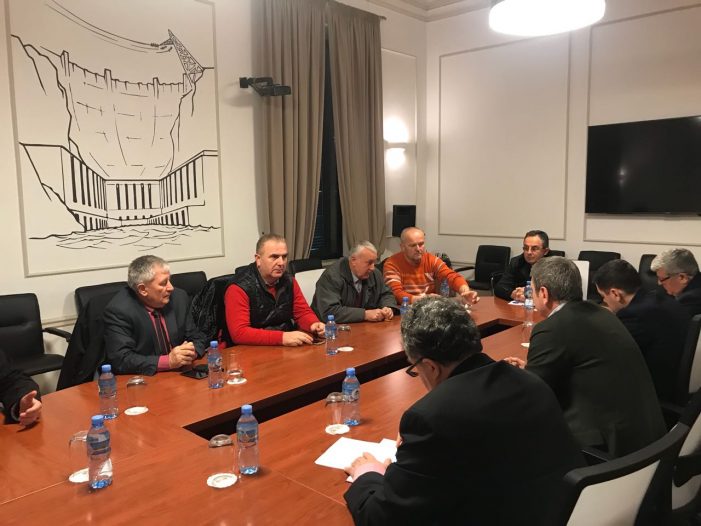 Yesterday, Minister of Infrastructure and Energy Damian Gjiknuri and Ministry of Economy and Finance Arben Ahmetaj have secured the full payment for the oil workers of the Ballsh refinery for the month November and a continuation of talks with the IRTC, the company operating the refinery, to arrive at a long-term solution.
After several hours of negotiations between the two ministers, the protesting oil workers, and representatives of the Labor Union of Oil Workers, the administrator of IRTC, Mitat Sulaj, the brother of oligarch Besnik Sulaj, promised that the company would take out a loan to pay the salaries of November.
Union leader Kamber Iliazi declared:
After a meeting with the two ministers Gjiknuri and Ahmetaj, it was decided that the administrator of the company should take out a loan to pay off our salaries before tomorrow 13:00.
Nevertheless, the oil workers, remembering the broken promises and negligence of the insistent protests over the last year, stated that they will continue their protests unless they receive their salary on time.
Both ministers Ahmetaj and Gjiknuri stated that the refinery is run by a private company, Ionian Refining and Trading Company (IRTC), and that the salaries are to be paid by the company and not by the state.
Nevertheless, it is the government that has decided to rent out the refinery in Ballsh to IRTC, and in 2016b Ahmetaj promised "many" investments of the company in the Albanian moribund oil industry. Meanwhile, the oil workers have only been faced with unpaid wages and life-threatening working conditions, without any perspective of improvement.
While IRTC has been unable to pay the Ballsh refinery personnel, it has recently invested €1.3 million in a Canadian oil company that received a permit of the Albanian government to start drilling for oil in the "Velça block."