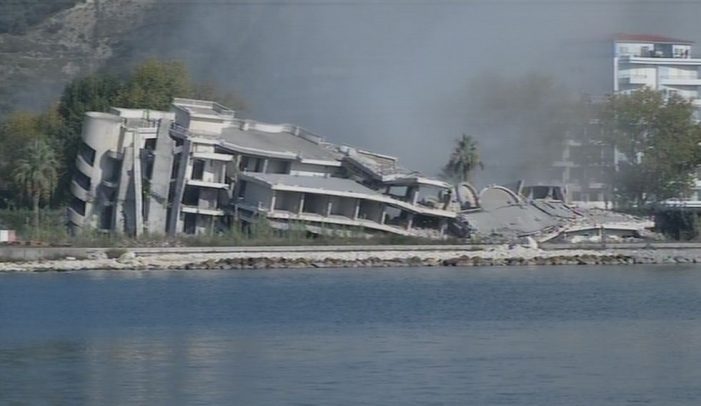 In another verdict penalizing the Albanian government, the European Court of Human Rights (ECtHR) in Strasbourg ruled that the Rama government has to pay a total of €13 million in compensation to the owners of the Jon building nearly Uji i Ftohtë in Vlora, which was unlawfully expropriated and destroyed by the government in 2013.
In a unanimous decision, which included Ledi Bianku, the Albanian judge that the government continues to fail to replace, the ECtHR that the fundamental human rights of the owners had been violated.
The demolition of the Jon building was one of the first decisions taken when the first Rama government took over power in 2013. Back then, the reasoning behind this decision was questioned in public, as the building was owned by the brother-in-law of opposition leader Lulzim Basha. Even though the government offered a compensation to the owners, they considered this too low and brought the case to Strasbourg.
Many other property rights cases have ended up before the Strasbourg court. In 2016, the government received a bill of in total €12 million in damages for several expropriations. However, the current verdict is the first one that concerns the demolition of a completely legalized building. This sets a precedent, as in a wave of expropriations and demolitions in 2013, the government often targeted properties that had their documentation in order, thus violating fundamental human rights and the Albanian Constitution.
The respect for human rights, including property rights, is one of the five key priorities that needs to be fulfilled for the opening of EU accession negotiations. Recent demolitions of private property in Shkoza and Himara have shown a similar regard for property rights and both cases, if brought to the Strasbourg court, might very well lead to a similar loss for the government.