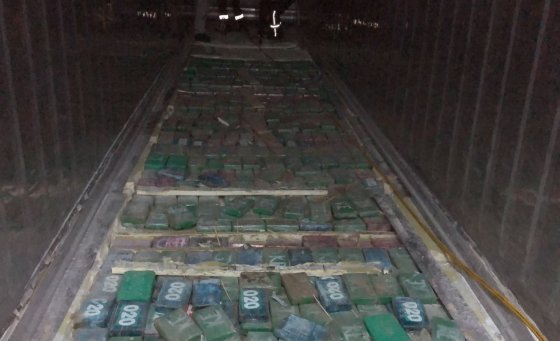 613 kilograms of cocaine were intercepted yesterday as they entered the port of Durrës inside of a truck transporting bananas. This is the largest amount of cocaine seized by the Albanian authorities to date.
The drugs were hidden inside banana fruit containers that were arriving from Columbia on behalf of the Albanian company Arbri Garden shpk, owned by Arbër Çekaj. Çekaj is currently wanted by the police, while the firm's warehouses in Maminas, on the highway between Durrës and Tirana, are being searched.
So far there have been four arrests, including the truck driver, who insisted he had no knowledge of the cocaine's existence.
According to police sources, the path followed by the drugs was Columbia–Spain–Italy–Albania. The drugs were hidden in the vehicle's chassis and weren't detected by the scanner. Rather, following the police's suspicions, the vehicle was put under a thorough search using narcotics dogs.
According to Ora News, the Italian Antimafia Prosecutor, Federico Cafiero De Raho paid a visit to the country two days ago in order to coordinate this police action.
Minister of Interior Affairs, Fatmir Xhafaj mentioned cooperation with foreign institutions in a tweet:
An enormous action by the State Police in collaboration with other local and foreign law enforcement agencies. A serious blow to international drug trafficking!
It is likely that the cocaine shipment was intended for the European market.
The State Police will update their statements as new information comes to light in the following days.