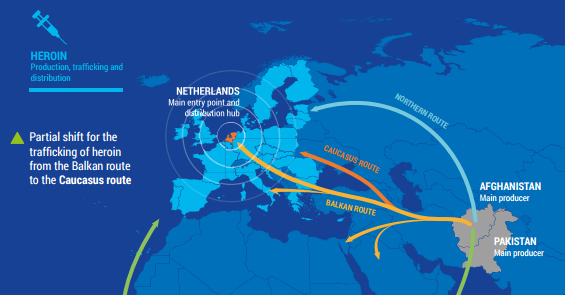 Albanian criminal groups are among internationally leading ones in the trafficking of heroin, cocaine, and cannabis, according to the United Nations Office on Drugs and Crime's 2017 report "The Drug Problem and Organized Crime, Illicit Financial Flows, Corruption and Terrorism."
The trafficking of cocaine, originating in Colombia, is carried out mainly by Colombian, African, Albanian, and Italian criminal groups.
Heroine trafficking, with Pakistan and Afghanistan its main producers, is carried out by Albanian, Turkish, and other various criminal groups from the Balkans and Africa.
Cannabis trafficking is carried out mainly by Albanian, Chinese, Dutch, North African, Spanish, and other Asian criminal groups.
Keeping in mind Albania's small territory, population size, and economy, the placement of Albanian criminal groups amongst the top criminal syndicates in the world bears witness to high levels of criminality in the country. As indicated in Europol's 2017 report on organized crime, Albania has become an operative base of regional organised crime.
Citing Europol, the UN report confirms that
compared with organized crime groups operating in other crime areas, such as financial and economic crime, property crime and counterfeiting, organized crime groups involved in drug trafficking tend to be larger.
Europol has identified close to five thousand international criminal organizations active in the EU and other countries during 2017 over 35% of them were involved in drug trafficking – more than in property crime, migrant smuggling, human trafficking, and financial crime.