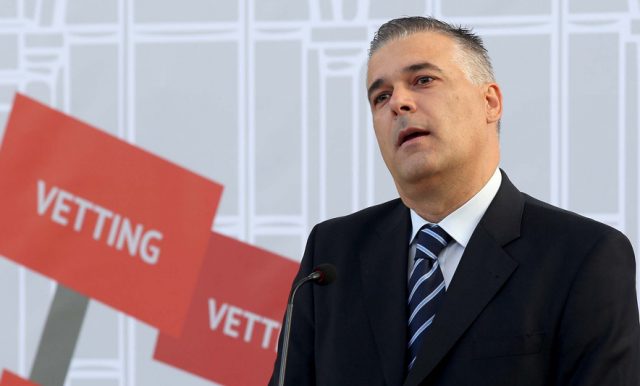 Public Commissioner Heral Saraçi has been accused of sabotaging the vetting of prosecutors and judges by undermining his own office. After a request of the International Monitoring Operation (ONM) last week, the Appeals College (KA) has decided to start disciplinary proceedings against Saraçi.
The disciplinary commission consists of three members of the KA, Sokol Çomo, Albana Shtylla, and Ardian Hajdari, while the investigation is prepared by Natasha Mulaj, the chair of the KA.
Together with the Independent Qualification Commission (KPK), the KA and the Public Commissioner are the main vetting institutions, an important part of the judicial reform. The Public Commissioner is responsible for safeguarding the public interest during the vetting process.
Saraçi is accused of obstructing the functioning of his own office, by drafting regulations that go counter those agreed upon with the ONM, and signing contracts with staff members without the approval of the second Public Commissioner, Florian Ballhysa.
If Saraçi is removed from his function, he will be replaced by one of the two backup Public Commissioners, Dariel Sina and Aldona Sylaj, who were elected in June 2017.