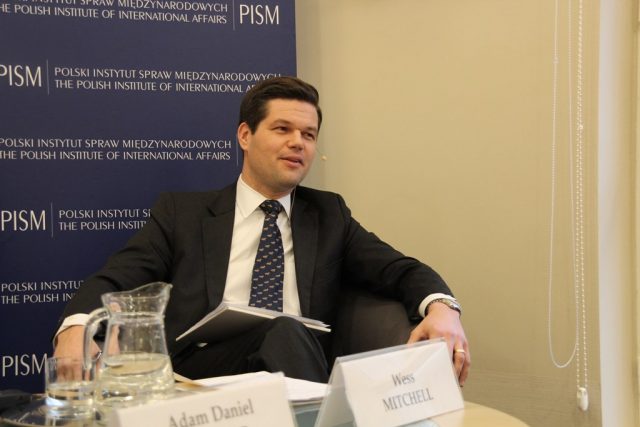 Wess Mitchell, the United States Assistant Secretary of State for European and Eurasian Affairs has excluded Albania from his tour in the Balkan region.
The following week, Mitchell will visit, one after the other, Kosovo, Macedonia, Serbia, Greece, and Cyprus. In Prishtina he will meet President Hashim Thaçi and Prime Minister Ramush Haradinaj, in Skopje he will meet Prime Minister Zoran Zeav and Minister of Foreign Affairs Nikola Dimitrov, in Belgrade he will meet president Aleksandar Vučić and Prime Minister Ana Brnabić.
Wess Mitchell, it seems, has decided against meeting Albanian Prime Minister Edi Rama and visiting Albania. In contrast to every other country in the region, he decided to send one of his deputies, Susan Falatko, in Tirana. The latter conducted several meetings with deputies and ministers this past week, but her visit was not publicly announced nor reported in any of the media.
Mitchell, who was nominated to the office previously held by Victoria Nuland by US President Donald Trump in October 2017, is directly in charge of the US embassies in Europe, while Susan Falatko is a career diplomat, whose highest office was being number two in the American embassies of Mauritius and the Seychelles.
While Mitchell's avoidance is clear, what motivates it is less so and can only be guessed at. The US Department of State's foreign policy has drastically changed since the time of Nuland, while the entire former staff responsible for dealing with Albania has left their positions.
Nonetheless, Falatko, who is the primary official dealing with Albania in the Department of State, as well as Ambassador Donald Lu represent a clear, openly pro-government stance. At least two representatives and a high state official who had met with Falatko told Exit.al that the latter had expressed exceptional support for the government.
This position demonstrates, at best, lack of information regarding Albania. More importantly, it conflicts with the Department of State's own reports on Albania issued during the last two years, the reports remain some of the worst ever to be focused on our country, especially concerning drug trafficking, organised crime and corruption. The only slight improvement seen in the last few years has been made in human trafficking.
On the other hand, regardless of the impression successfully projected onto the local public opinion by Ambassador Lu, the Department of State holds no special interest in Albania, which emerges as entirely inconsequential for US foreign policy. This negligibility, coupled with the complete change of leadership in the Department of State, has lead to the judicial reform, a primary focus of Nuland and the previous leadership, being overlooked by the current one. This is why not even this ambitious, US-sponsored project was reason enough for Mitchell to make a stop in Tirana.
What one can glean from this is that, now, US policy for Albania effectively goes only as high as Ambassador Lu, who is using these circumstances, along with the last months of his stay in Tirana, to concoct, by any means possible, a semblance of "results" of the judicial, in order to rescue his image, invested entirely in a failed reform.