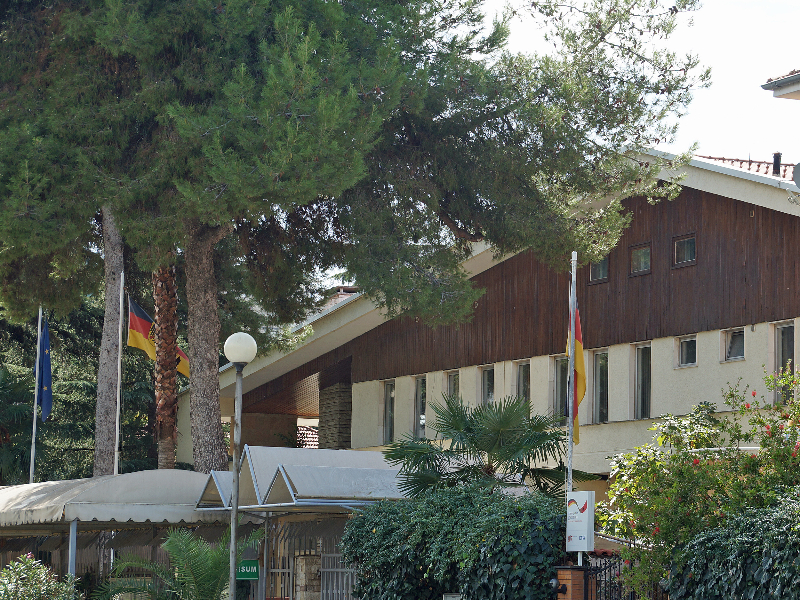 Yesterday evening, around 7 pm, a curious group of foreign and Albanian officials met at the German Embassy. One after the other, US Ambassador Donald Lu, Minister of Interior Affairs Fatmir Xhafaj, and Director of the State Police Ardi Veliu arrived at the German Embassy on Rruga "Skënderbej" in Tirana, apparently to meet German Ambassador Susanne Schütz.
The meeting comes at a moment when Ambassador Lu has come under attack for overstepping diplomatic bounds in demanding the arrest of former Speaker of Parliament and current President Ilir Meta. Yesterday, Ambassador Lu already appeared at an unscheduled meeting with President Meta, which lasted from 12:50 to 13:45.
Although the Presidency released a statement that President Meta and Ambassador Lu "discussed the excellent relations between our two countries and the current regional and international security issues," the media widely reported that meeting was a form of damage control from the side of the US Ambassador.
It is therefore not unlikely that the evening meeting at the German Embassy was connected to the same issue, namely the blatant interventions of the US Ambassador in Albanian internal affairs.
Ambassador Lu has claimed that former General Prosecutor Llalla "is under active investigation for money laundering and massive unjustified wealth," and has provided similar comments to foreign media. However, as Exit.al has been able to confirm from sources within the Prosecution Office, as of last week there had been no formally open case against Llalla.
It is publicly known that Llalla's family lives in Germany, where they have rented a house, and Llalla himself frequently travels there, so it may not be surprising if Ambassador Lu, aided by Minister of Interior Fatmir Xhafaj and Police Director Veliu, were trying to convince the German Embassy in a "crisis meeting" to join in their quest to find actually incriminating evidence to allow a case be opened against Llalla, thus "proving" Lu's premature accusations.
In particular, the presence of Police Director Ardi Veliu in the meeting is a significant detail. Most of the top brass in law enforcement nominated under former Minister Tahiri were involved in one way or another in aiding and abetting drug trafficking, and the current Minister Xhafaj personally nominated Veliu, as someone outside the "Tahiri clan", catapulting him from obscurity into the "reformer" of the State Police.  In other words, Veliu was handpicked by Xhafaj, a former investigator during the communist dictatorship, as someone that will obediently serve Xhafaj in reorganizing the State Police bending it to his personal will.
Exit.al has reached out to the German Embassy regarding the reason and contents of this very particular meeting, but by the time this article's publication it hadn't received any response yet.