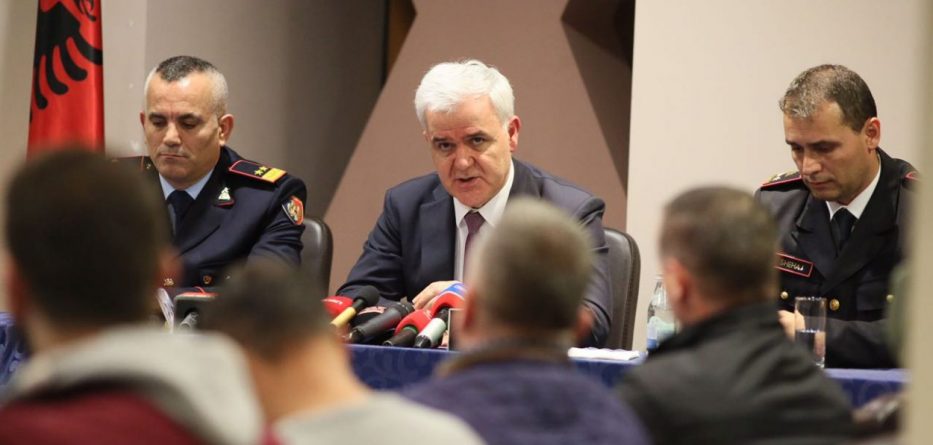 Minister of Interior Affairs Fatmir Xhafaj has warned for a war on criminal gangs in Elbasan. During the Public Safety Forum in Elbasan, Xhafa declared yesterday:
We will make your lives miserable! Here [in Elbasan] there are two or three criminal gangs we are well aware of and we are working to document their activities in order to, very soon, prosecute them before the law.

Their criminal activities will be punished as severely as possible as they constitute disturbances in the rule of law, public safety, and the lives and economies of citizens.

We are fighting an uncompromising battle. We are determined to go to the end of it.
This is not the first time Xhafaj has declared "war" against Elbasan's gangs.
In December 2017, Xhafaj announced the restructuring of the Elbasan police, two months after a full restructuring was completed by former Police Director Haki Çako, as a step toward strengthening the fight against organized crime in the city.
One of the main reasons that brought about this restructuring was the still-unsolved clash between the police and members of the Çapja family, one of Elbasan's most notorious crime families.
Neither former Police Director Çako, nor the current Director Ardi Veliu, nor Xhafaj have accepted any responsibility for the country's criminal situation the last few months. A series of serious crimes and clashes between gangs and a police force that, in all cases, has failed to arrest any of the offenders, raise doubts not only regarding the work being done by local police leaders, but also regarding what work is being done by the General Directorate of the State Police and the Ministry of Interior Affairs.