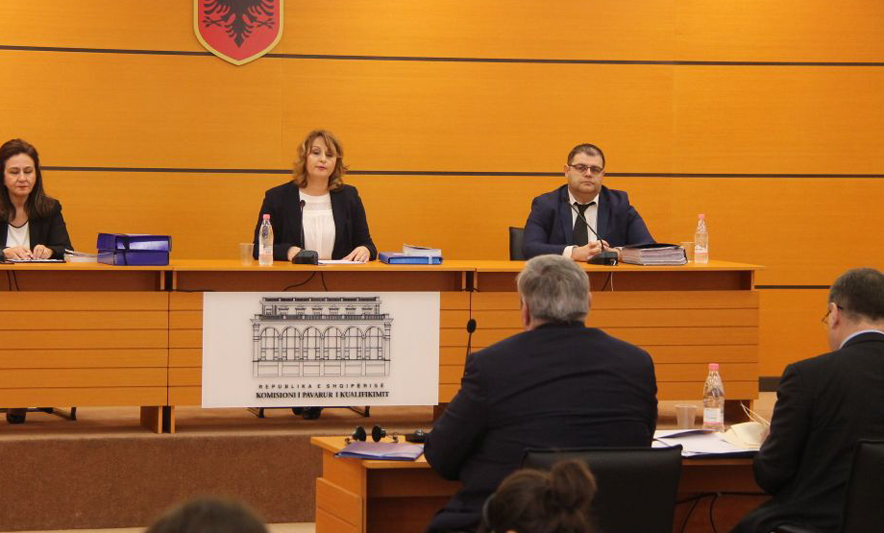 Besa Nikëhasani, prosecutor of the Shkodra Appeals Prosecution Office, is the first prosecutor to undergo the vetting process.
The Independent Qualification Commission's (KPK) first hearing with Nikëhasani will take place today.
Nikëhasani is part of the list of people whose reassessments hold priority, as she is a candidate for a position in the High Prosecutorial Council (KLP) which, in violation of the Constitution, has yet to be formed.
Nikëhasani began her career as a prosecutor in 1993 in the Lezha Prosecution Office, and then in 2004 she transferred to the Shkodra Appeals Prosecution Office.
Alongside a review of her record and personal abilities, KPK will also be reviewing the prosecutor's wealth. According to BIRN, in an analysis of 12 wealth declarations filed by Nikëhasani at the High Inspectorate of the Declaration and Audit of Assets and Conflict of Interest (ILDKPKI), 3 of them were found to be problematic, specifically those belonging to the years 2004, 2011, and 2014. The total amount of Nikëhasani's unjustified assets reaches 4 million lekë.
The previous week, KPK decided to dismiss Durrës Appeals Court judge Besim Trezhnjeva, as a result of his unjustified wealth. KPK reached the same decision, earlier, when vetting Constitutional Court judge Fatos Lulo.
The announcement on whether or not the prosecutor will pass the vetting will be made on April 19, two days after the hearing took place.