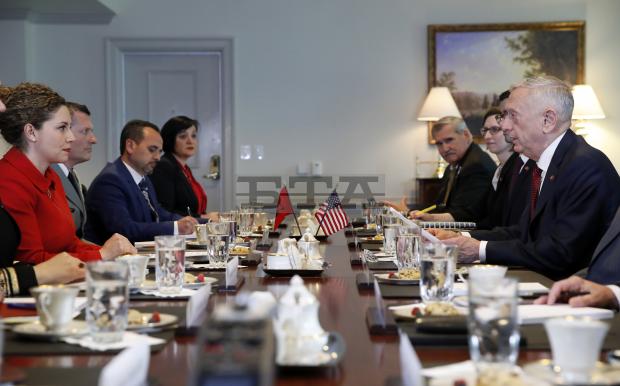 Minister of Defense Olta Xhaçka called for the placement of American troops in Albania in order to ward off the growing influence of Russia in the region.
According to AFP, during a meeting with Defense Secretary Jim Mattis at the Pentagon, Minister Xhaçka said that Albania, a NATO member, wanted to fight against Russian "destabilization" efforts in the region that include propaganda and investments.
Xhaçka declared:
A very strong message needs to be sent that the western Balkans is a West-oriented region and that we all share and we need to protect the same principles and values, and we look forward to strengthening) our strategic partnership.

You can count on us to be a very trusty ally. Albania could really be a stronghold of the United States in the region. We believe that the time might be ripe for a footprint of United States in Albania.
Xhaçka did not go into detail about how exactly American military troops would push back against Russian propaganda and investments in Albania, but her request implies that the Albanian government feels powerless in the face of supposed Russian interference.
During the last two years, the Rama government has increased the intensity of its rhetoric warning against a Russian specter haunting Albania and the need to stop it.
Yet, ironically, this rhetoric notwithstanding, the Rama government has been actively negotiating with several Russian companies regarding their entry in Albania. These companies include Gunvor, founded by a Russian oligarch on the United States' Sanctions list, whom Prime Minister Edi Rama met with in his office, and Jeremex, commercial agent of Gazprom for Europe, with whom Minister of Infrastructure and Energy Damian Gjiknuri negotiated in Saint Petersburg concerning the use of several oil deposits.
Additionally, Turkish company Cengiz Construction, which will be building the Vlora airport, has previously partnered with a Russian state corporation for the construction projects of several nuclear power plants.