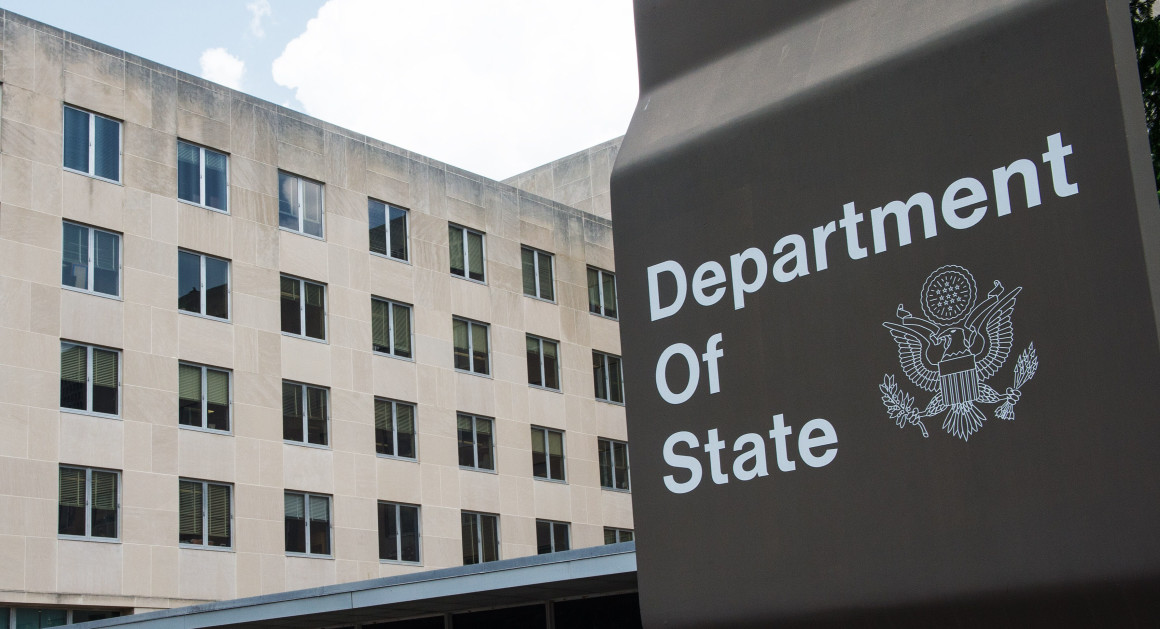 The US Department of State released its annual Country Reports on Human Rights Practices. According to the Report on Albania, the country is the site of grave human rights and labor violations.
The main issues concerning human rights in Albania include "limitations on expression and the press, including self-censorship and intimidation of journalists driven by financial and political interests; and pervasive corruption in all branches of government."
Impunity remained a problem. Prosecution, and especially conviction, of officials who committed abuses was sporadic and inconsistent. Officials, politicians, judges, and those with powerful business interests often were able to avoid prosecution.
The Report stresses that, even though the legal framework is in place it, at times, fails to be enforced by the proper institutions. High rates of domestic violence, violence against women, and child trafficking remain concerning.
Below, find the principal findings of the report:
Freedom of Expression, Including for the Press
There were reports that the government, business, and criminal groups sought to influence the media in inappropriate ways.
There were some efforts to exert direct and indirect political and economic pressure on the media, including threats and violence against journalists who tried to investigate crime and corruption stories.
Political pressure, corruption, and lack of funding constrained the independent print media, and journalists reportedly practiced self-censorship. Lack of economic security reduced reporters' independence and contributed to bias in reporting. The Albanian Journalists Union continued to report significant delays in salary payments to reporters at most media outlets.
While dramatic growth in online media during the year added to the diversity of views, NGOs maintained that professional ethics were a low priority for such outlets, raising concerns over the spread of false news stories that benefited specific financial or political interests.
Donor funding for organizations that pushed for a more independent press remained limited, and the press was vulnerable to misuse under constant political and economic pressure. According to the report, very few media outlets produced independent reports about organized crime because their journalists lacked financial and editorial independence.
Most owners of private television stations used the content of their broadcasts to influence government action toward their other businesses. Business owners also freely used media outlets to gain favor and promote their interests with political parties
Journalists often practiced self-censorship to avoid violence and harassment and as a response to pressure from publishers and editors seeking to advance their political and economic interests. A 2015 survey by the Balkan Investigative Reporting Network (BIRN) Albania found that large commercial companies and important advertisers were key sources of pressure.
Corruption and Lack of Transparency in Government
The law provides criminal penalties for corruption by public officials, but the government did not implement the law effectively, and officials frequently engaged in corrupt practices with impunity.
Corruption was pervasive in all branches of government. Between January and August, the prosecutor general's office registered 185 new corruption investigations. During the same period, 122 persons went to trial for corruption offenses and 99 were convicted.
Through August, 17,752 complaints had been submitted through the online portal stopkorruption.al, approximately 8 percent of which contained information on alleged corrupt practices.
In October prosecutors announced an investigation of a former interior minister for ties to organized crime and abuse of office.
While prosecutors made significant progress in pursuing low-level public corruption cases, including corrupt prosecutors and judges, prosecution of higher level crimes remained elusive due to investigators' fear of retribution, a general lack of resources, and corruption within the judiciary itself.
Role of the Police and Security Apparatus
Police did not always enforce the law equitably. Personal associations, political or criminal connections, poor infrastructure, lack of equipment, or inadequate supervision often influenced law enforcement.
The Service for Internal Affairs and Complaints received 3,811 telephone complaints via the anticorruption "green line" through July 31. The majority of the complaints involved "inaction of police officers," "unjust fine/ticket," or "violation of standard operating procedures." The office filed 43 administrative violations, recommending 57 police officers for disciplinary proceedings.
Arrest Procedures and Treatment of Detainees
Prosecutors requested, and courts ordered, detention in many criminal cases, although courts sometimes denied prosecutors' requests for detention of well-connected, high-profile defendants
Judges held many court hearings in their offices, demonstrating a lack of professionalism and providing opportunities for corruption. These factors undermined the judiciary's authority, contributed to controversial court decisions, and led to an inconsistent application of civil law.
Property Restitution
The ombudsman reported that to date the government had not yet executed 26,000 court rulings nor reviewed 11,000 claims dealing with property rights. Claimants may appeal cases to the ECHR, and during the year hundreds of cases–many of them related to property–were pending ECHR review.
Arbitrary or Unlawful Interference with Privacy, Family, Home, or Correspondence
The government's National Inspectorate for the Protection of the Territory (NIPT) demolished some homes without due legal process as part of a wider campaign to demolish illegally constructed buildings.
Through July the ombudsman received seven citizen complaints against the local inspectorates and three against the NIPT, including for failure to provide sufficient warning in writing, failure to consider a homeowner's application for legalization of a property, and lack of transparency.
Throughout the year, residents of the Himara region continued to complain of targeted heavy-handedness by the government that resulted in the partial or complete demolition of numerous houses and businesses with little warning and no legal recourse for adequate compensation. In October the government demolished several uninhabited structures in Himara as it implemented an urban development plan about which residents complained they had not been adequately consulted by municipal authorities. The demolition of a further 12 structures was halted because residents filed a court case against the authorities.
Education
Parents must purchase supplies, books, uniforms, and space heaters for some classrooms; these were prohibitively expensive for many families, particularly Roma and other minorities. Many families also cited these costs as a reason for not sending girls to school.
Observers believed that child abuse was increasing, especially in schools. Services for victims of abuse were not readily available.
Child protection units in municipalities reported 104 cases of physical violence against children in 2016.
Discrimination, Societal Abuses, and Trafficking in Persons
Officials did not prosecute spousal rape. The concept of spousal rape was not well understood, and authorities often did not consider it a crime.
Police often did not have the training or capacity to deal effectively with domestic violence cases.
According to the government's statistical agency, the ratio of boys to girls at birth in 2016 was 107 to 100, which indicated that gender-biased sex selection was possibly occurring. The government did not take any steps to address the imbalance.
A total of 39 child victims of trafficking and potential victims of trafficking were identified through October.
Since the law prohibits the prosecution of children under age 14 for burglary, criminal gangs at times used displaced children to burglarize homes.
There were instances of forced labor during the year. Children engage in gathering recyclable metals and plastic, mine work, sewing, street peddling, agriculture, and animal husbandry. Children were subjected to forced begging and criminal activity.
While the law prohibits the exploitation of children for begging, police generally did not enforce it, although they made greater efforts to do so during the year.
Labor Rights
Labor unions were generally weak and politicized. Workers who engage in illegal strikes could be compelled to pay for any damages due to the strike action.
Acceptable Conditions of Work
According to the World Bank, the informal sector accounts for nearly 50 percent of all employment in the country.
Workplace conditions in the manufacturing, construction, and mining sectors frequently were poor and, in some cases, dangerous. Resources and inspections were not adequate, and penalties often did not deter violations, as law enforcement agencies lacked the tools to enforce collection and consequently rarely charged violators.
There were no government programs to provide social protection for workers in the informal economy. Violations of wage and occupational-safety standards occurred most frequently in the textile, footwear, construction, and mining industries. Workers often could not remove themselves from situations that endangered their health or safety without jeopardizing their employment.
While the law establishes a 40-hour workweek, individual or collective agreements typically set the actual workweek. The law provides for paid annual holidays, but only employees in the formal labor market had rights to paid holidays. Many persons in the private sector worked six days a week.
The government had no standards for a minimum number of rest periods per week and rarely enforced laws related to maximum work hours, limits on overtime, or premium pay for overtime, especially in the private sector.
Prison and Detention Center Conditions
The ombudsman reported that most cases of alleged physical or psychological abuse occurred during arrest and interrogation.
Through August, the ombudsman received 104 complaints from detainees. The majority of complaints concerned the quality of health care. The ombudsman did not refer any case for prosecution.
The government, the ombudsman, and the AHC reported prison overcrowding continued and that the prison population was 3-5 percent greater than the design capacity of prison facilities. Overcrowding was worse in pretrial detention centers.
The ombudsman and nongovernmental organizations (NGOs) reported that authorities held inmates with mental disabilities in regular prisons, where access to mental health care was wholly inadequate.
Corruption continued to be a serious problem in detention centers, particularly in connection with access to work and special release programs.
During the year several other senior prison staff were arrested and convicted for supplying drugs to prisoners or demanding payment for access to family visits.
National/Racial/Ethnic Minorities
Many mixed schools that accepted Romani students marginalized them in the classroom, sometimes by physically setting them apart from other students.
Romani rights NGOs criticized the Tirana municipal government for delaying the building of new homes for Romani families removed from their homes in 2016. In December 2016 the municipality evicted 76 Romani families from the Bregu i Lumit neighborhood of Tirana, which is prone to flooding in the winter.
Sixty of the families were moved into a temporary warehouse, where NGOs reported they lived in dire conditions without sanitation or electricity.
Freedom of Movement
In order to receive government services, individuals changing place of residence within the country must transfer their civil registration to their new community and prove the legality of their new domicile through property ownership, a property rental agreement, or utility bills. Many persons could not provide proof and thus lacked access to public services. Other citizens, particularly Roma and Balkan-Egyptians, lacked formal registration in the communities where they resided. The law does not prohibit their registration, but it was often difficult to complete. Many Roma and Balkan-Egyptians lacked the financial means to register, and many lacked the motivation to go through the process.
Using data from the cases that were resolved from 2011 to 2016 with the support of the NGO Tirana Legal Aid
Society, UNHCR estimated the number to be 4,871, down from the 7,443 persons who declared themselves as unregistered during the 2011 census. Most of these were Romani or Balkan-Egyptian children.
Elections and Political Participation
The OSCE further noted, "Continued politicization of election-related bodies and institutions as well as widespread allegations of vote buying and pressure on voters detracted from public trust in the electoral process." Regarding voting itself, the OSCE mission noted "an overall orderly election day" but found that "important procedures were not fully respected in a considerable number of voting centers observed."