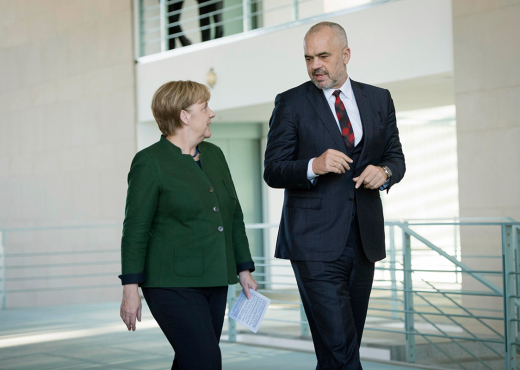 Prime Minister Edi Rama is currently in Berlin to meet high German officials. Today he will be meeting with Chancellor Angela Merkel. The Chancellor and the Prime Minister will not be giving a press statement after the meeting, opting instead for a quick comment before the meeting.
According to Exit sources, the results of the fight against crime and corruption will be one of the main topics of their conversation. Merkel is expected to bring up the fact that Saimir Tahiri has yet to be arrested and investigations into him have made little progress.
Germany remains one of the skeptic EU member states, along with France and the Netherlands, when it comes to opening accession negotiations with Albania. Chancellor Merkel, however, is reviewing the possibility of convincing German legislators and other skeptics on the condition that tangible results come out of the fight against crime and corruption.
Furthermore, another important topic of conversation will be the issue of the negotiations between Kosovo and Serbia. Several EU member states are working to draft a new proposal that will appease both parties. Exit sources tell that this proposal includes a special status granted to Mitrovica in Kosova, similar to that of the Vatican in Italy.
Germany will ask Albania to support this proposal in exchange of opening accession negotiations.
The proposal was also the main reason behind Belgian Prime Minister Charles Michel's visits to Albania and Serbia, during the previous days. According to Serbian broadcaster B92, Prime Minister Aleksandar Vučić confirmed this following the press conference he gave alongside Michel.