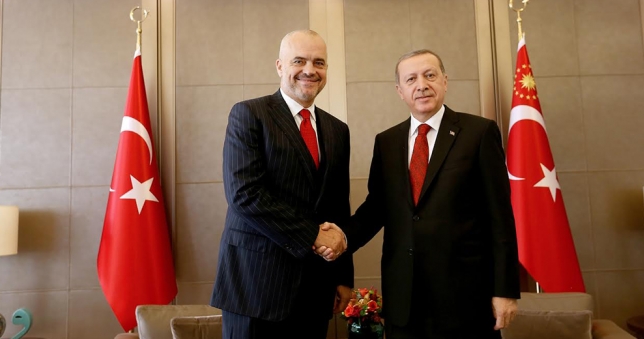 For the first time, Prime Minister Edi Rama revealed his public stance on the FETÖ organization belonging to exiled Turkish preacher Fethullah Gülen, labelling it as a "criminal organization." The EU has not supported this characterization in the past, which is solely claimed by Turkey.
In an interview with Ilva Tare on Monday evening, Rama stated:
I can say that the network that organized the violent coup of a democratically elected government in Turkey is a dangerous network. When it comes to Albania, of course we will keep people who are allegedly affiliated with the network under surveillance.
In speaking like this, Rama effectively supports the stance taken by Turkish president Recep Tayyip Erdoğan, who blames Gülen and organizations affiliated with him for the failed coup attempt of July 2016, even though he has failed to present any clear proof of this.
Following the coup attempt, Erdoğan undertook a massive campaign of arrests and convictions for everyone he considered to have partaken or supported the coup. 40 thousand people have been arrested, more than 140 thousand public administration employees have been dismissed, 1500 civil groups have been dispersed, and more than 160 medias and newspapers have been shut down. Among those arrested were 150 journalists.
The central target of Erdoğan's attack campaign was the FETÖ organization and anyone affiliated with it. His attempts to dismantle the organization and arrest its members have extended beyond Turkey's borders. Turkey has drafted lists of alleged FETÖ members located in several countries and has appealed to their respective governments to either arrest or expel these persons.
Last month, 6 Turkish professors, heads of education institutions, accused of being members of FETÖ were arrested in Kosovo.
In November 2016, Albania's Ministry of Education approved the Turkish embassy's request to prohibit private educational institutions in Albania to use Turkish names and symbols. This request clearly targeted the network of Turkish colleges that operates in Albania and are allegedly owned by FETÖ.
The Prime Minister's statement may foretell the end of Gülen's ownership of this network, leading, either to them shutting down, or being sold to other organizations.