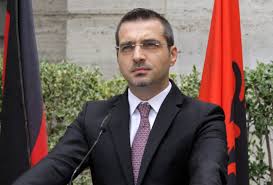 It seems Prime Minister Edi Rama has asked his former Minister of Interior Affairs and right hand Saimir Tahiri to resign, following pressure from Germany setting the latter's arrest as a condition for opening accession negotiations.
Via a press conference from the Socialist Party's headquarters, MP Tahiri, who has been accused for months of being part of the criminal Habilaj gang, resigned. This means that the Prosecution Office is now free to arrest Saimir Tahiri.
During the press conference, Tahiri accused American ambassador Donald Lu and EU Ambassador Romana Vlahutin of interfering in Albania's judiciary system.
They voted for the vetting of prosecutors and judges, like sheep, with two ambassadors that to, at least, my shame, applauded it over our heads. […] and I sit and hear about who caught the biggest fish.
Additionally, Tahiri accused Minister of Interior Affairs, Fatmir Xhafaj, of lying about the existence of gangs in the country.
Below, find the highlights of Tahiri's statement:
I am Saimir Tahiri and I do not need an MP's immunity to protect me from justice.

I am not a clown and I don't have to be an MP to go toe to toe with political clowns.

They told me that my immunity protected me, my MP status protected me, Edi Rama protected me, no matter how often I have repeated that I don't want, nor need anyone or anything to protect me. They told me that all of these have saved me from being arrested and sent to prison. Not only that, now I'm hearing that I have become an obstacle to Albania's EU integration.

Until justice is done, I will not be a Member of the Albanian Parliament anymore. Today's match is not my last one, but my first and I will keep going until I make it.