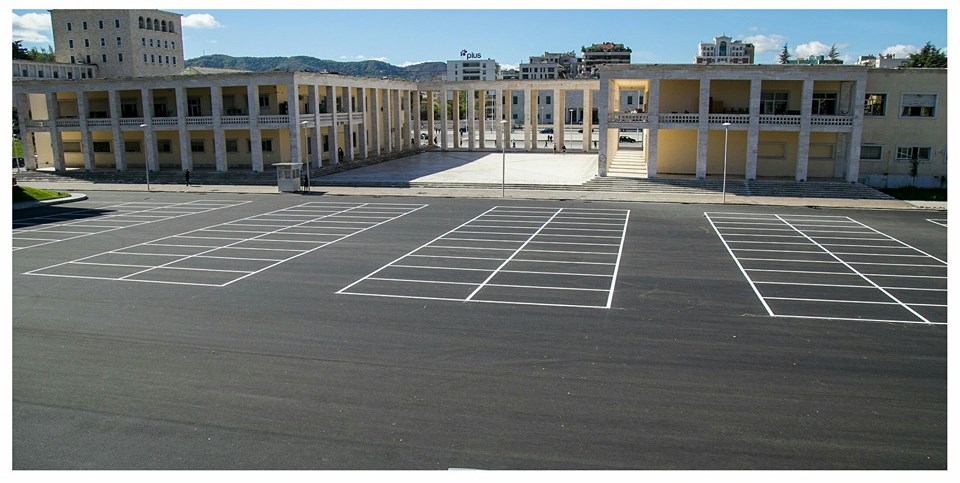 The Tirana municipality has awarded €2.5 million to Albstar shpk, the company that is currently constructing the new national stadium, for the construction of an underground parking beneath the Italia Square, located in front of the stadium. The construction project will be financed entirely by the municipality.
The tender winner was announced on December 18, 2017, while the contract was signed on January 11, 2018. The parking garage will have 196 parking spots, spread among two levels, the first with 92 and the second with 104.
The tender competition that selected Albstar used the same formula usually used to "select" a predetermined tender winner. Six companies bidded for the tender. Five companies were disqualified by the Tirana municipality's tender committee for failing to fulfill technical criteria, automatically leaving Albstar to be the winner of the tender. Four of the five disqualified companies placed higher bids than Albstar and had extensive previous construction experience.
Albstar first became known to the public when it was selected by the Albanian Football Federation (FShF) and the Albanian government to plan, finance, and build the new national stadium, via a suspicious, if not illegal, procedure.
The project has been drafted by regular clients of the Rama government, who, among other things, have planned and overseen the construction of the new national stadium: Sfera Studio, owned by Artan Shkreli, former Edi Rama councillor and current Vice Minister of Energy and Infrastructure, and Marco Casamonti of Archea Associati, the new national stadium planner, hired by Albstar shpk, are the main planners for the parking garage project.
Ave Consulting, owned by Arben Dervishaj, director of the FShF infrastructure department and supervisor of the construction of the new stadium, is also part of the planning team, in clear conflict of interest, as Dervishaj is responsible for supervising Albstar in the construction of the stadium, while collaborating with the company for the construction of the parking garage.
The hydrotechnical work was planned by Alket Kumaraku, while fire protection and safety work was planned by Artan Desha; both of them formerly part of the team from the studio Atelier 4, Casamonti's co-planner for the new national stadium, and frequent beneficiary of many Urban Renaissance projects.
Meanwhile, the overseeing of the project, valued at around 2.4 million lekë (about €16,000) was awarded to the company Zenith&Co shpk, that is part of the consortium who was also awarded by the Tirana municipality the tender for the construction of the first schools via public–private partnerships. Curiously enough, Zenith&Co is currently under investigation for the infamous Tirana–Elbasan highway dossier, along with the former directors of the Albanian Road Authority, Andi Toma and Dashamir Xhika.