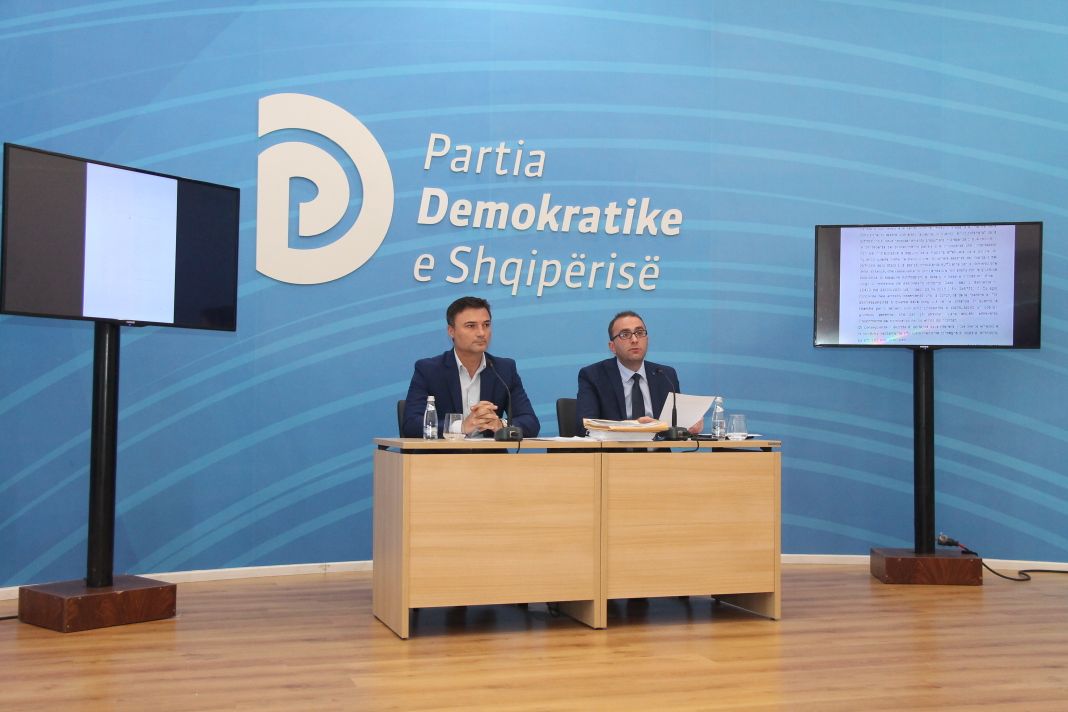 Yesterday, the Democratic Party accused Minister of Internal Affairs Fatmir Xhafaj of defending his brother, Agron Xhafaj, convicted of being part of a criminal organization in Italy, from his criminal sentence.
In a press conference, MPs Enkelejd Alibeaj and Bardh Spahiu published documents revealing that Xhafaj's brother has been convicted by the Italian courts for international drug trafficking, yet, as his location is currently unknown, he has never spent a day in prison:
[Fatmir] Xhafaj is lying, and he is entirely aware of the fact that his brother, Agron Xhafaj, alias Goni, has been convicted by an Italian court and he has never seen a day in prison, living in Albania since 2013.

Xhafaj has not only political and moral, but also legal responsibilities. According to the existing legislation, one of the main duties of the State Police is locating and pursuing persons who have been convicted in absentia.

It is the duty of the Minister of Interior Affairs and his subordinates in the State Police to identify Agron Xhafaj, have him arrested, and see to it that he carries out his sentence.
According to the documents made public today, Agron Xhafaj has been sentenced, by final conviction of the Italian Supreme Court with 7 years and two months in jail. Agron Xhafaj has been convicted as a member of a drug trafficking organization that operated in Albania, Italy, Poland and the United States:
After the review of Agron Xhafaj's criminal dossier, via decree no. 2232, dated September 25, 2012 of the Supreme Court of Cassation of Italy, the complaint filed by citizen Agron Xhafaj has been dismissed, retaining, thus, his sentencing to 7 years and 2 months in prison via the decree of October 12, 2008 by the First Degree Court of Lecce, also retained via the decree of January 25, 2011 by the Appeals Court of Lecce. Consequently, Agron Xhafaj, the brother of Minister of Interior Affairs Fatmir Xhafaj, has been convicted via a final verdict
In Parliament, Prime Minister Edi Rama responded to the opposition's allegations, declaring that US Ambassador Donald Lu "verified everything. Until he has spoken the verdict of the Italian Supreme Court is not true."