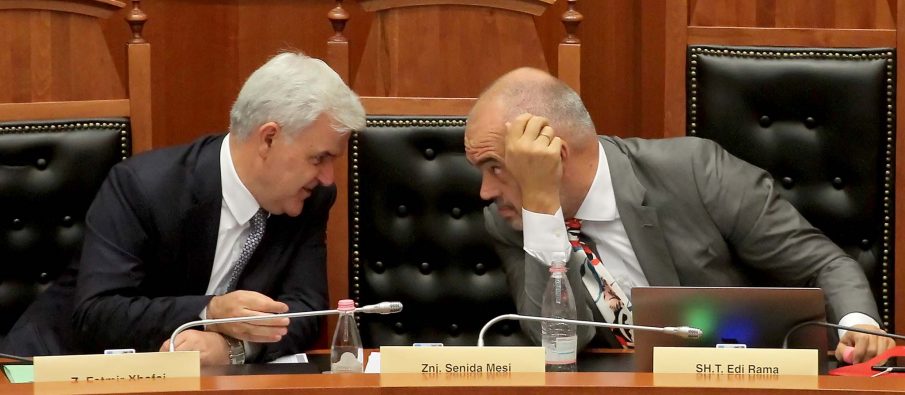 Exit has found out that in Italy Agron Xhafaj's name was never entered into the list of wanted people in Italy, nor Interpol's wanted list, even though the brother of Minister of Interior Affairs Fatmir Xhafaj has been convicted for trafficking drugs as part of a criminal organization and has been sentenced in 2002 to 7 years and 2 months in jail, a sentence upheld by both the Lecce Appeals Court, and Italy's Supreme Court.
Exit has also learned from the Albanian authorities that Italy never presented Albania with a request for Xhafaj's extradition, even though it has done so for all the other members of the gang Xhafaj was affiliated with, who were sentenced in Italy.
In spite of this, as a foolproof protective measure, the criminal brother of the Minister of Interior has officially changed his name from Agron to Geron Xhafaj, which means that the convicted Agron Xhafaj has ceased to exist, while the "reborn" Geron Xhafaj is free to travel in Albania, to enter and travel freely in Italy and the world, as has technically never been convicted or investigated, anywhere, for any criminal activities.
Minister Xhafaj has accepted that he was aware of his brother's conviction, but this has not damaged his political career in the slightest, even allowing him to become Minister of Interior Affairs. Furthermore, Xhafaj has never been held politically, let alone criminally, accountable of the fact that, as head of the parliamentary legal affairs committee, he allowed the parliamentary confirmation of a law different from the one decided upon by the committee, which contradicts European norms and was protested even by Italian Minister of Justice Andrea Orlando.
It remains the duty of Italy, if not partially of Albania, to clear up the fact that a person convicted by the Italian courts has not been included in the list of wanted persons. Interpol has not been alerted of his wanted status, and his imprisonment has not been pursued.
The fact that Agron Xhafaj has been investigated and sentenced by three levels of the Italian judiciary is meaningless for as long as his sentence is not carried out, and there are no attempts to bring him to justice. According to many voices and cases made public in Albania, this case does not stand on its own, but is rather common for many Albanian criminal characters that have been convicted in Italy.
Is there an "office" you can turn to so that your name doesn't end up in the list of wanted persons drafted by the Italian Police? At what cost could this service be acquired?
These are the questions that pertain to the Italian administration of Justice and Public Law, but, still, the fact that the beneficiary of this, let us call it forgetfulness, is a close relative of an influential politician, who has held important offices in the Albanian government and whose alleged actions have not always been favorable to the Italian justice, raises several questions regarding the Italian political decisions and stances.
In fact, at this point, two hypotheses remain:
Before the decision of the Italian Appeals Court, in 2011, the Albanian authorities have notified the Italian ones that the convicted person has chosen to carry out his sentence in his motherland, so his name has never been included into the wanted persons list. However, in Albania, Agron Xhafaj enjoys full freedom, and has never been imprisoned.
There was "an agreement" between the Albanian Minister and the Italian authorities. Removing his brother's name from the Italian list in exchange for him using his influence to the interests of Italian politics – yet another story of spies and traffickers, neither the first, nor the last of its kind between Italy and Albania. Yet what possibly could Xhafaj have offered the Italians, when even the extradition provisions contradict the Italians' interests?
Or, was the Albanian Minister so cunning (and the Italians so dumb) that he managed to use them without ever paying them back?