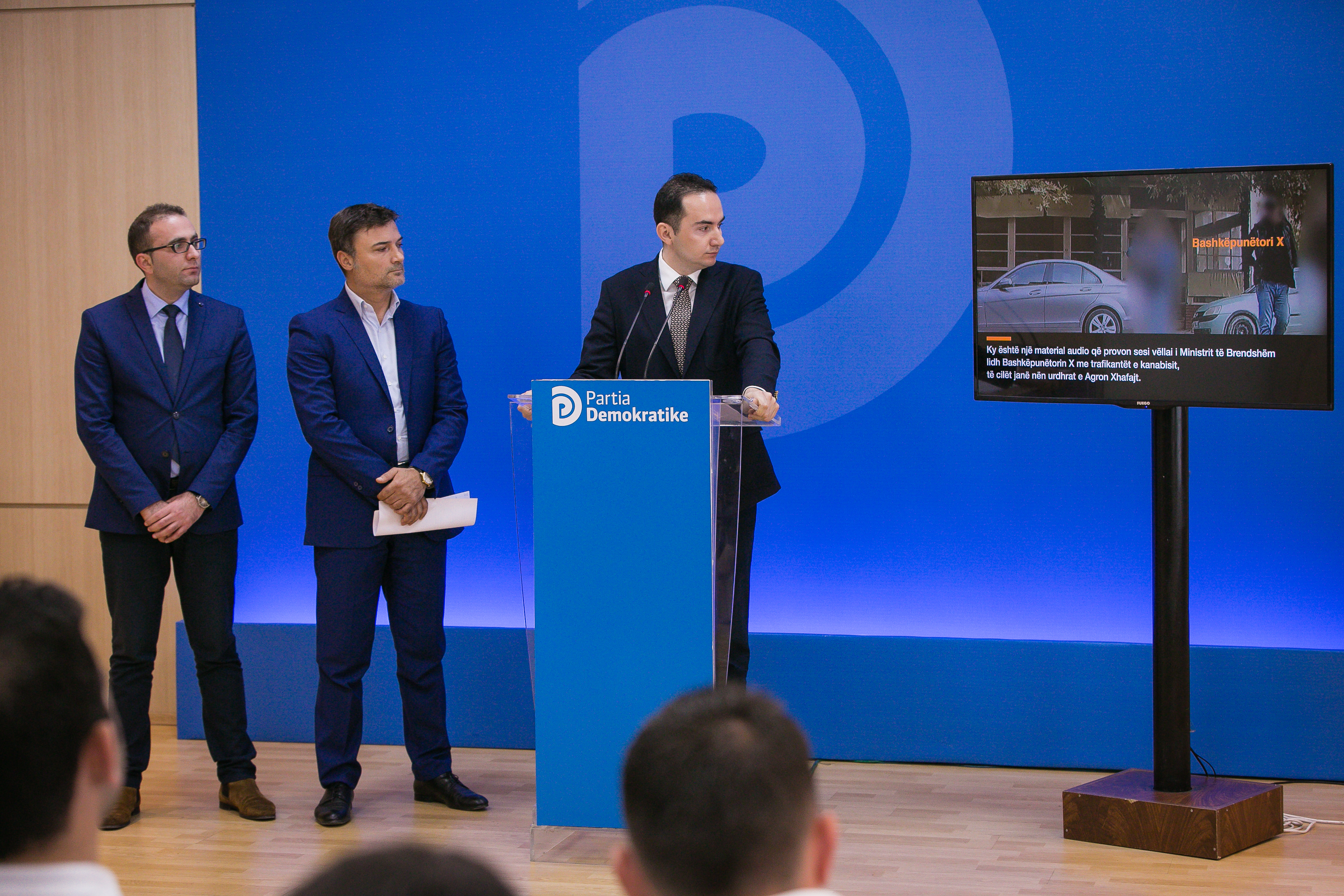 Yesterday, the Democratic Party published evidence that the brother of Minister of Interior Affairs Fatmir Xhafaj continues organizing drug trafficking operations from Vlora.
In a press statement, MPs Enkelejd Alibeaj, Ervin Salianji, and Gazmend Bardhi, published a wiretap in which one can hear Agron Xhafaj arrange the delivery of a drug shipment for one of his former collaborators.
In the phone conversation, one can hear the former collaborator, who has been released from prison in Italy, where he has been convicted as a member of Xhafaj's gang, and has arrived in Albania, asking Agron Xhafaj to help him "make a trip," as he does not have any money.
Xhafaj points him to a person named "Ermal," who is, according to him, "Agron's close friend."
Afterwards, Agron tells the collaborator not to bother him frequently, as "those in Italy have been dismantled," and him and his brother, Fatmir Xhafaj, are being attacked a lot.
During the press statement, Gazmend Bardhi, claimed that Minister Xhafaj provides his drug trafficking brother the support of the State Police.
Meanwhile, Enkelejd Alibeaj listed three ways in which Xhafaj broke the law, in order to convict his brother who has been convicted in Italy:
Agron Xhafaj has not spent a day in prison because Fatmir Xhafaj does not fulfill his legal duties as Minister of Interior Affairs, like verifying and identifying Agron Xhafaj's new identity, alerting the Italian authorities of his whereabouts, and arresting him.
Fatmir Xhafaj, in his position as the head of the legal committee, falsified the official documents in order to avoid his brother's legal extradition. The falsification also made it impossible for Agron Xhafaj to carry out his sentence of 7 years and 2 months in prison for drug trafficking, in Albania. Thus he does not spend a day in jail.
Fatmir Xhafaj does not respect the anti-mafia law and hinders the law from acting against him and his brother. Agron Xhafaj's criminal activities automatically make him a subject for the law, who happens to be Minister Xhafaj himself.