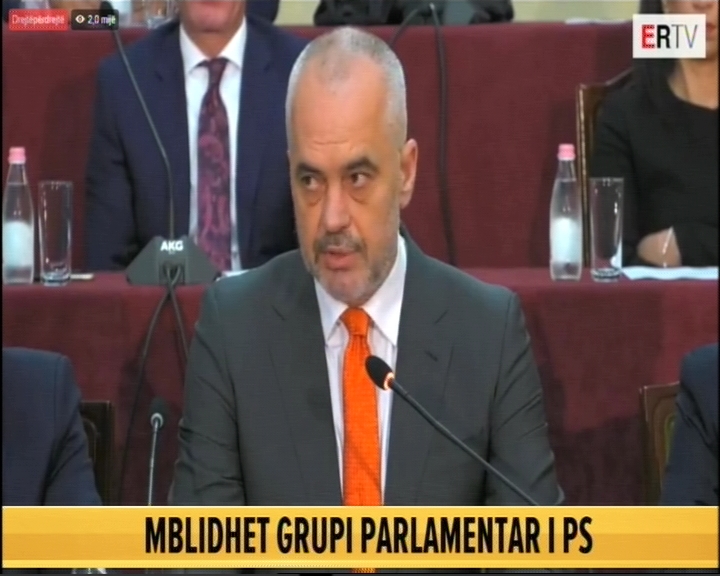 Prime Minister Edi Rama came to the defense of Minister of Interior Affairs Fatmir Xhafaj regarding the issue of the latter's brother who was convicted in Italy, stating that the Minister is not morally nor criminally responsible and doesn't need to resign.
During a speech before the Socialist parliamentary group, Prime Minister Rama declared:
Today, the Interior Minister has no moral or legal responsibility to account for.

I have sought the legal expertise of specialized international agencies and have mobilized the appropriate structures in order to obtain any evidence regarding the Minister of Interior's brother.

Following the revelation of the fact that there has never been an extradition request on the part of the Italian authorities, despite the babbling of the opposition's media sources, which demand justice but has never bothered to read one single law, I am telling you that without such a request, Albania has not been able to act.
Regarding the wiretap recordings made public by the Democratic Party, which showed how Agron Xhafaj continued his criminal activities from Vlora, the city where he lived, Rama accused the opposition of trying to destabilize the country via fabricated recordings:
Yesterday, I received the scientific analysis from one of the world's best laboratories. That was enough for me to tell you that we are not facing any incriminating evidence against the minister. We are facing an inauthentic material aiming at destabilizing the country.

It is an evident destabilizing masquerade orchestrated to tell Europe that this is a country in which the Ministry of Interior Affairs is the head of drug trafficking organizations.