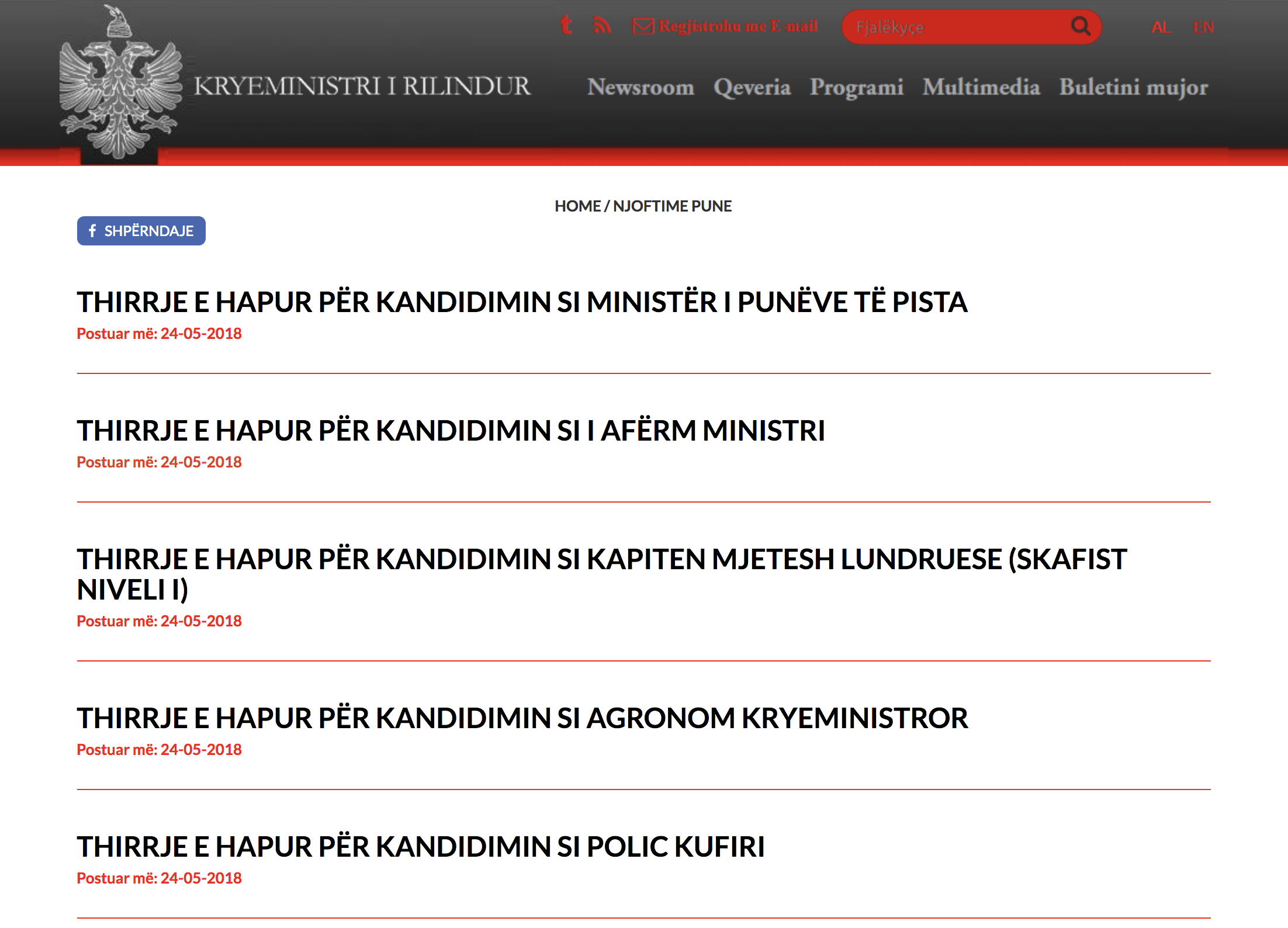 Yesterday evening, the Electronic and Postal Communications Authority (AKEP) ordered Albanian Internet providers to block access to the satirical website Kryeministri.com.
In an email published by media outlet Lapsi, AKEP orders the immediate access to the website, which satirizes the website of the Prime Minister. The website contained several "open calls for application" including one for "Minister of Dirty Affairs."
The open call specified criteria such as "Albanian citizenship; links with the world of crime, possibly through family; former membership of the Labor Party, reborn as Socialist; […] driving license for an Audi."
The profile refers to Prime Minister Edi Rama's choice of Minister of Interior Affairs: former minister Saimir Tahiri is currently under house arrest awaiting trial for corruption and membership of a criminal organization, while current minister Fatmir Xhafaj has become the center of a controversy regarding his brother, a convicted international drug trafficker who failed to be extradited to Italy under Xhafaj's watch. Xhafaj is also a former investigator and prosecutor of the communist dictatorship.
In the email, AKEP justifies the blocking of the website under art. 15 of law 9918 "concerning Electronic Communications in the Republic of Albania."
Art. 15, however, deals with "general conditions," specifying that AKEP has the authority, among others, to set conditions for the "e) respect for limitations in relation with illegal or damaging content, according to the pertinent legal regulations in force; […] h) duty to offer access."
The statements made on Kryministri.com fall clearly under the freedom of expression, and the website does not call for or commit any illegal act. The only thing it does is poke fun at the narratives of crime and corruption that have engulfed the Rama government.
Although perhaps a minor incident, the blockage of the website is an example of the increasingly hostile position the government is taking against the freedom of expression and the free press. Only recently, Prime Minister Edi Rama directly attacked journalist Ambrozia Meta during a press conference, accusing her of "propaganda" and "unethical" behavior after she asked a question related to Rama's choice of ministers.