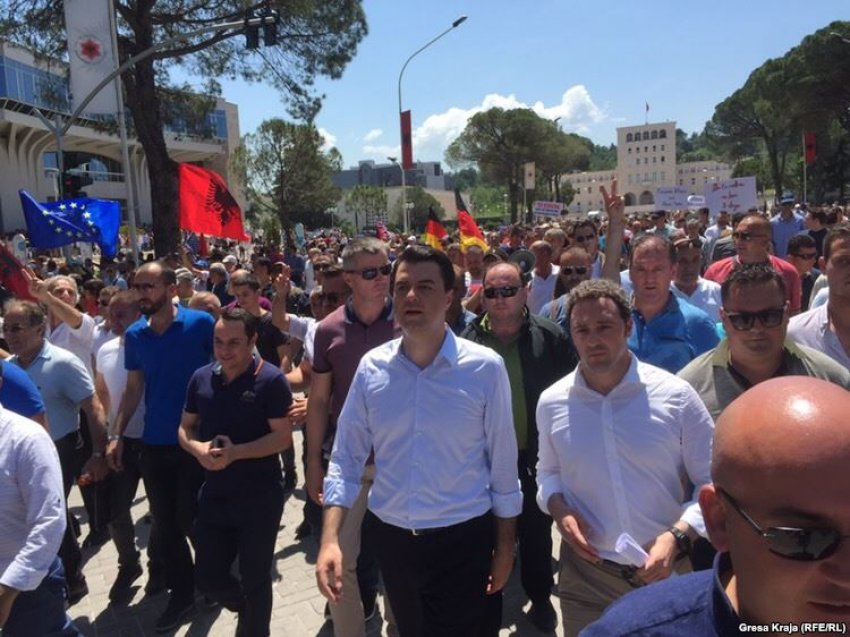 Yesterday, thousands of protesters of the opposition gathered in front of the Prime Ministry, demanding the departure of Minister of Interior Affairs Fatmir Xhafaj after the scandal of his brother who was convicted in Italy, hasn't carried out a single day of his sentence, and was accused of continuing his drug trafficking in Albania, lasted for two hours and concluded peacefully.
I am not here to seek power for myself, I'm not here to occupy, to position myself above you. I am here to take courage and give courage. To be one of you, to be together with you. What awaits us is not only one man's challenge any more, not one man's journey, it is the journey of all Albanians. The sun of the Albanians rises in the West. This is a wave that is rising, and rising.
Democratic Party leader Lulzim Basha declared that the only way to get a green light from the EU is the removal of this government. Basha stated that the "Rilindja" is an anti-national and criminal project that has looted the country. He stated:
Today's power is no more the power of the people, it is the power of a minority submerged in crime. A minority that, everyday, exhorts more and more money from Albanians. Only one solution remains, today, the removal of this government from the united people. Today, we are not simply asking for a change in governance, we are demanding the separation of politics from crime. Power is only good when it fears the people. In progressive countries, the government fears the people, whereas, in miserable countries, the people fear the government.
At the conclusion of the protest, opposition leader Basha stated:
Today, the people gave a clear message to the government of crime. We will continue our struggle against the world's most anti-European government. Today, Albanians spoke and Europe spoke. There can be no integration when the powerful protect their criminal relatives. For a better life, we will continue fighting this battle until we win.