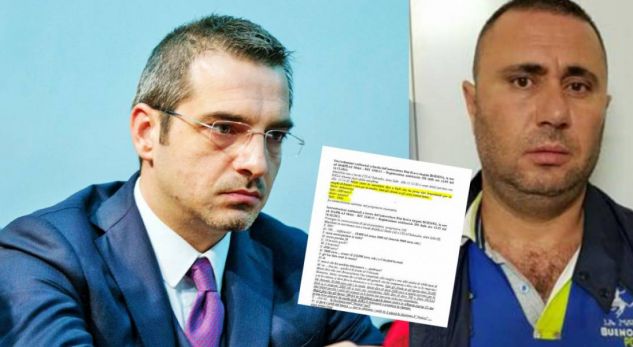 Today, the prosecutors of the Tahiri–Habilaj case, Besim Hajdarmataj and Vladimir Mara, will interrogate Moisi Habilaj, Nezar Seiti, and Meridian Sulaj in Catania, Italy.
The prosecutors will ask the three members of the Habilaj gang regarding the involvement of former Minister of Interior Affairs Saimir Tahiri in international drug trafficking, during the time he also served as Minister.
Tahiri's cousin Moisi Habilaj and Meridian Sulaj were arrested in Catania on October 16, 2017, as heads of a criminal group that had trafficked over 3.5 tons of cannabis, guns and other weapons over the last few years, with a yearly profit of €20 million.
The Catania Prosecution Office revealed that former Minister Tahiri was also involved in the case, as, during his time as Minister, he facilitated the Habilajs' drug trade and trafficking.
Three days after the aforementioned arrests, Nezar Seiti was arrested during an Albanian police operation in Babica, Vlora, where 4.5 tonnes of cannabis were seized.
Even though Seiti, also known as the Habilaj gang's "financier," was arrested and was being investigated in Albania, Temporary General Prosecutor Arta Marku allowed the extradition of Seiti to Italy, in violation of article 491 of the Criminal Procedural Code.
Allowing one of the case's key witnesses to leave the country was one of Marku's most flagrant interventions in favor of former Minister Tahiri.
Afterwards, Marku dismissed Besim Hajdarmataj from his position as head of the Tirana Serious Crimes Prosecution Office, demoting him to simple prosecutor. Still, to date, the Tahiri case remains under the supervision of Hajdarmataj.
On the Prosecution Office's request, former Minister Tahiri was placed under house arrest on May 12, accused of "trafficking of narcotics" as part of a structured criminal group per articles 28, 283/a, and 333/a of the Albanian Criminal Code, as well as "passive corruption by high state officials or local elected officials" per article 260 of the Criminal Code.
A mere two days ago, the Serious Crimes Appeals Court ruled for the second time in favor of Tahiri, dismissing the Prosecution Office's request he be taken into custody and deciding, instead, he would await trial in freedom.