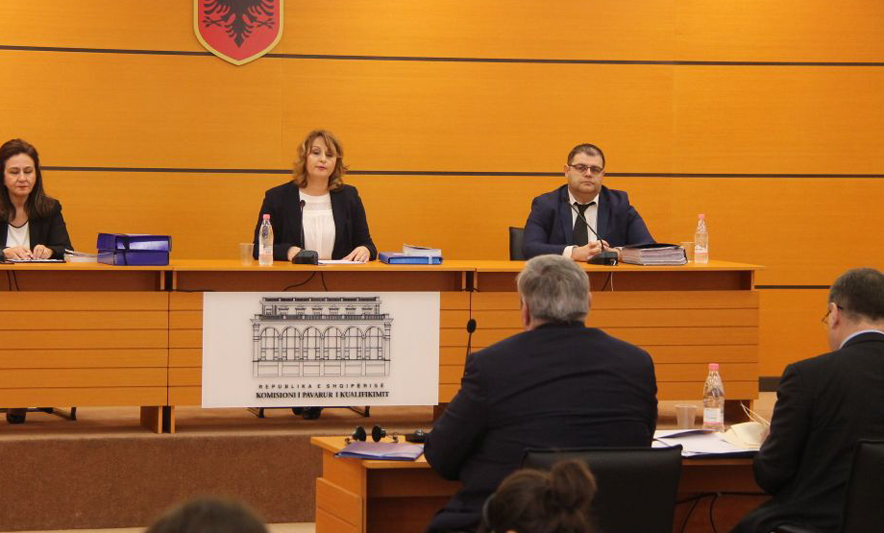 The installation of the High Judicial Council (KLGj) will be further delayed after all current candidates have been vetted by the Independent Qualification Commission (KPK).
With the confirmation of Brunilda Kadi and Dritan Hallunaj today, all 14 candidates for the KLGj have been vetted.
According to Law 115/2016 "On governance institutions of the justice system," the KLGj is composed of the following 6 members:
Three of the elected judges are first instance judges. At least 1 (one) of them is a judge of first instance in a court outside Tirana.
Two of the elected judges are appellate judges. At least 1 (one) of them is judge in an appeal court outside Tirana.
One of the elected judges is a judge at the High Court.
The vetted list of candidates contained only one appeals judge from outside Tirana, Besim Trezhnjeva from the Appeals Court in Durrës. He was dismissed by the KPK on April 13, a verdict that was confirmed on July 26 by the Special Appeals Chamber (KPA).
This means that a new call for applicants needs to be made in order complete the list of qualifying KLGj candidates. In fact, yesterday the High Court published a call for applications for Appeals Court judges from outside Tirana in an attempt to fulfill the final vacancy. The deadline for applications is September 15, after which the candidates need to pass the vetting through an expedited procedure.
In May 2018, Minister of Interior Fatmir Xhafaj still claimed that the new justice institutions would be formed before the summer.