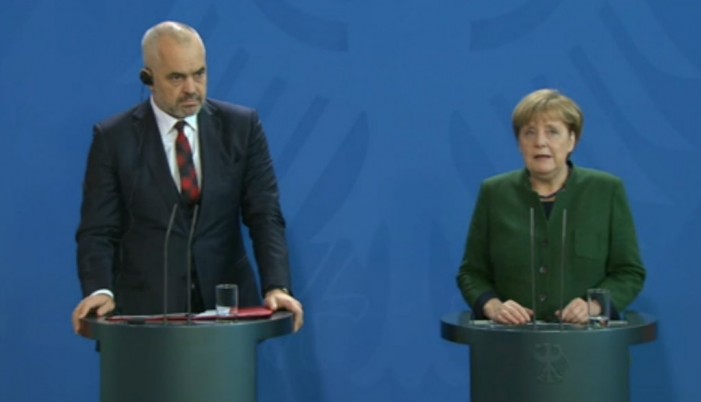 Prime Minister Edi Rama is visiting Berlin today, where he will be hosted by Chancellor Angela Merkel. The two government leaders will meet on Monday to discuss the Donors' Conference for Albania, following the deadly November earthquake, as well Albania's Chairmanship of OSCE.
The Donors' Conference was an initiative of French President Emmanuel Macron, also supported by the European Union. The European Commission will hold the conference on February 17 in Brussels.
Rama also visited Italy last week for the same purpose of best channeling efforts to maximize donations during the conference. He had meetings with Prime Minister Giuseppe Conte and Foreign Minister Luigi Di Maio to whom he announced that the preliminary bill for the earthquake damages was over one billion euros. A final post-disaster needs assessment report will be ready on February 4.
Albanian Top-Channel TV reported on Friday that the bill might have been inflated by the government, in an attempt to attract more donations.
The report on earthquake damages in being prepared by the Albanian government, and experts from the World Bank, UN and EU. Rama said it should be ready in a few days.
The group of experts is headed by Socialist Party's MP Milva Ekonomi, the Head of the Parliamentary Committee on Economic Affairs.
The preliminary report estimates €700 million in damages to residential buildings, €150 million to businesses and another €150 million to public property such as roads, schools and hospitals.
When Rama told Di Maio the amount of money needed for reconstruction, the Italian foreign minister appeared surprised but optimistic: "One billion? That's a lot but I am confident that at the Donors' Conference we will find a solution."
The final report will be the reference point at the Donors' Conference to be held in Brussels on February 17.