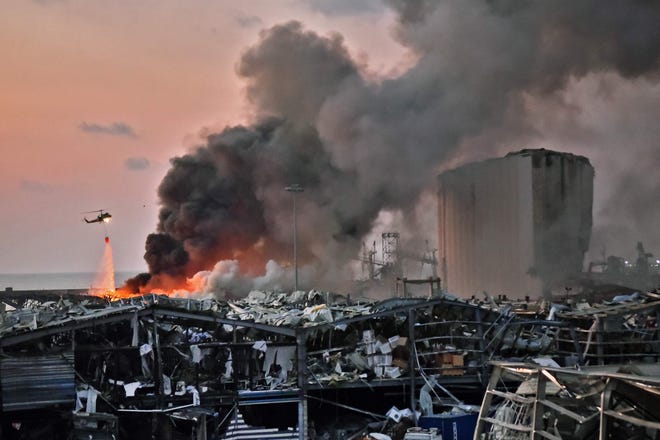 The death toll from yesterday's explosion in Beirut, Lebanon has risen to "at least 100" and is expected to increase as authorities continue surveying the damage.
Yesterday afternoon a large explosion occurred at the city's port. Appearing to be triggered by a fire, it caused a shockwave that caused damage up to 15km away. The explosion was so loud that it was heard in Cyprus over 234km away.
According to the authorities, over 4000 people have been injured and the city's hospitals are overwhelmed with patients.
It is still unclear what caused the blast although it appears it was triggered by a fire in warehouses by the waterline. There has been speculation that grain silos and a warehouse containing chemicals were a part of the section that caught fire and resulted in the explosion. Interior Minister Mohammed Fahmi told the local news that it appeared the blast was caused by the detonation of over 2,700 tons of ammonium nitrate that had been stored in the warehouse since it was confiscated from a cargo ship in 2014.
Video footage shows a large red/orange cloud seconds after the blast which is consistent with what appears after an explosion involving nitrates.
Lebanese authorities have said they do not believe it was an attack. Israeli authorities were quick to deny any responsibility or involvement.
The blast comes at a time when Lebanon is struggling to cope with a rising number of COVID-19  cases. Authorities are concerned that the number of people pouring into hospitals could lead to a spike in cases. In addition to this, the country is experiencing a severe economic crisis that saw inflation rates rise to over 50%. Many Lebanese have been made homeless, lost their jobs, and seen their savings evaporate due to the currency crisis.
The now-destroyed port was a lifeline for the country as most of the country's imports came through it. Estimates suggest that some 85% of Lebanon's grain was stored in the now-destroyed silos. This will plunge the country into a situation where food insecurity poses a real risk. Lebanon is already hosting over 1.5 million Syrian refugees due to the yearslong war.