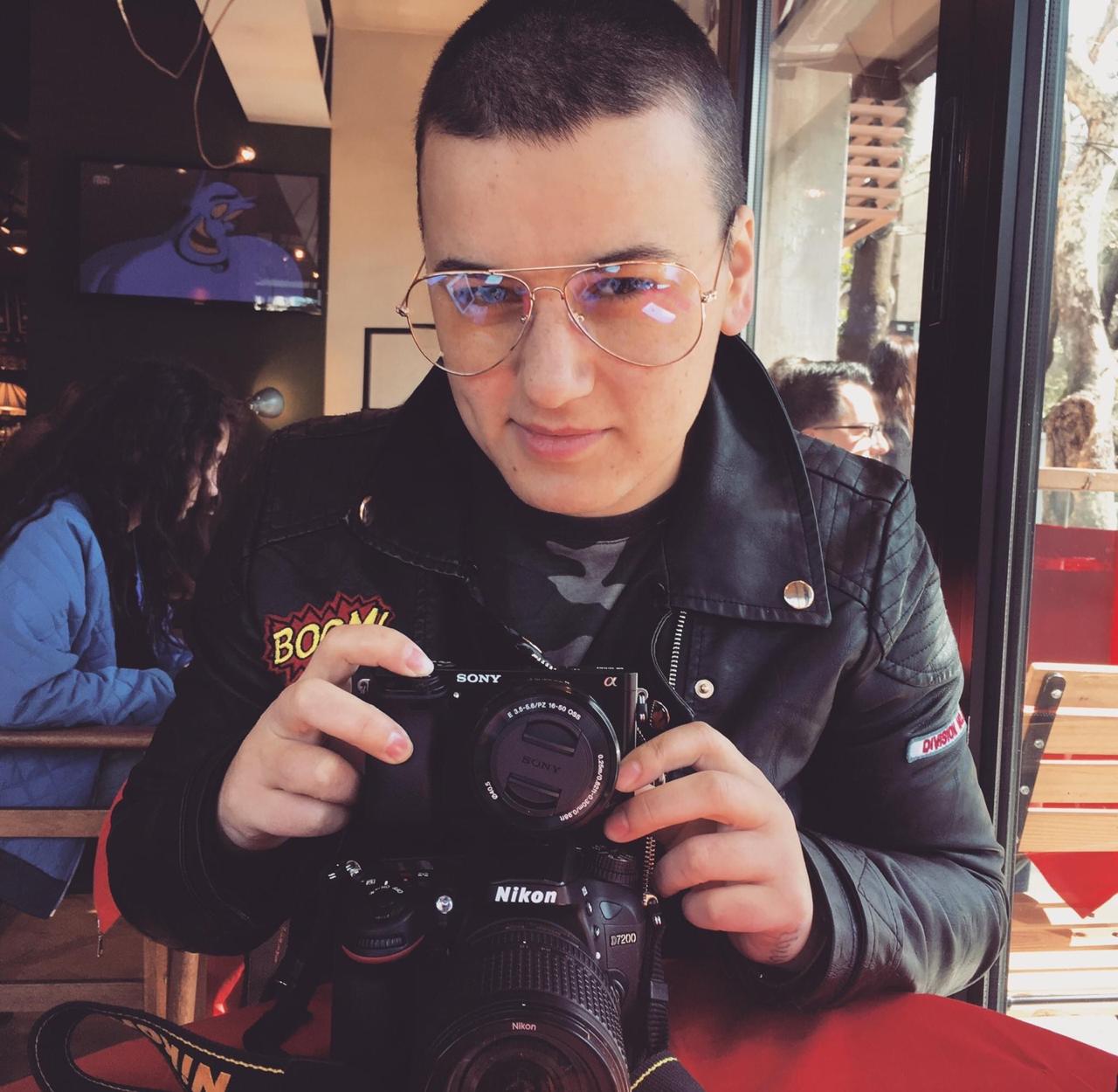 Loreta Cuka is a photographer based in Tirana, Albania. Over the last few years, Loreta's photos of protests, civil society movements and unrest, and various events have drawn an increasing amount of attention. Exit caught up with Loreta to discuss the #999 project, a series of raw and unedited photo's depicting Albanians from every walk of life.
Tell me about your latest project and how you came up with the idea?
The project is called #999, as a symbol of the number of portraits that I seek to realize. The concept is about capturing and immortalizing the image of my fellow contemporaries and of all Albanians. Their face is merely a means to reach into the depths of their soul and discover what beautifies or disturbs their spirit.
The idea arose from the desire to change the thematic of my job; protests, documentary photography and various social problems. Also, as an artist, I like working on long-term projects as I like to go beyond the surface of a problem or whatever it is that I'm focussing on. 
Portraits are something very intimate for me; they are palpable and bring a tornado of emotions that are often visible and other times not. Meeting up with a lot of people from the young generation made me also understand how we have changed throughout the years. I wanted to confront the past with the present, and perhaps even with the future. I began working on the project somewhere around September 2019 and I haven't stopped since then, as I am still shooting different Albanian portraits. 
What is the aim of #999?
Lifestyle and the general spirit of society are known to have a great impact on citizens. Maybe many years later when we turn our head back, the #999 Project could be a demographic map of portraits, which will above all carry the social spirit of our current lifestyles. 
Lack of hope, people leaving the country, corruption and injustice all weigh in on our portraits and I believe that in the decades to come, the people that will see these photographs will comprehend and get a sense of where Albania has been and what's become of it. 
What challenges have you encountered during the project so far?
At the moment, I have shot 336 out of 999 photographs. The main challenge rests on changing the mindset of the participants who have created such a rigid and cliché concept of beauty and often during the shoot they try to suggest and copy photos that they have either seen or liked from elsewhere. 
This desire to look pretty and non-acceptance of themselves and their natural beauty is a process that I go through with almost everyone that I've shot. The second challenge is connected to the monetary aspect. 
There is very little support for photography in Albania, especially for the young generation. I have covered all my own expenses so far. I have conceptualized the project in 3 books and each one of them will include 333 photographs. At the moment I am trying to find funding for the publication of the first book.
What has working on this project taught you?
I have absorbed a lot of information, given that I mainly photographed young people. We have talked about their economic difficulties- be that in their families or at school. Insecurities caused by social media make them seek for perfection or give them a sense like they aren't beautiful enough, or can't reach that success that they see in other people. 
There is also a growing number of young people who in general dislike photos and do not want to be photographed. They have seen this project as an opportunity to escape from the monotony and in a way learn to love themselves for how they truly are. Let's say it's been like their personal challenge to see and love themselves without filters or Photoshop. 
There were others who have said that given the great number of portraits in this project, the attention won't fall directly on them but will be distributed fairly among all. They wanted to be a part of the change and the diversity that the project represents in itself. 
Another interesting thing is that even though photos are shot at various locations in Tirana, it made me discover new neighbourhoods and areas in the capital, and therefore discover the architecture, colours, windows and doors of different houses and buildings, hence not only beautifying the portraits themselves but also Tirana. 
Who was the most interesting person to photograph? 
I believe that every person I've shot has been special and beautiful in their own particular way. I always try to make my photos emotional and not technical. So, I try to make the whole process happen in a social manner so that we can both get something from each other during the photo shoot. 
But I would like to mention perhaps when I photographed some children from the Roma community. It was a truly special and touching moment for me. Their poses were so pretty, simple, and so real and touchable, so maybe for some others, they see it from a different perspective. 
Shooting the LGBTI community was also a challenge in itself, knowing how commonly the images of this specific community are mishandled. 
What do you try to capture in your photos, beyond the image?
The essence of everything beyond the image is the emotion that it conveys, the words spoken beneath its subconscious are what I aim to capture in every picture. 
If you could take the portrait of anyone in the world, who would it be and why?
Being aware that a photographer is always behind the camera, I would like to shoot some of my favourites who have inspired me throughout the years: Annie Leibovitz, Steve McCurry, Martin Schoeller as well as other feminist icons or various human rights activists. 
What kind of feedback have you had so far?
 
I usually do not categorize feedback in good or bad, because both have one objective: make a suggestion, so it's not the form that matters. Inspirational feedback is the praise I get from people based on the scale and the realization of the project. I have also had some advice saying that I should diversify the age of the participants and other social aspects of the people that I have photographed which I intend to take in consideration since I have about 600 photographs left. 
You also photograph protests, social issues and events that have an impact on society. What do you try to portray through these images?
My photographic work is mostly tied to social themes; it has in its essence the individual as a part of society. It is the same person who goes out to protest and is dragged by the police, the person who wanders in the city streets without a fixed career in mind or financial perspective. My lens is always directed towards the individual. The difference between the pictures shot during a protest or portraits rests mainly in its setting. But I think that the depth and the confrontation that a portrait allows is the category where I find myself the most in the art of photography. 
What is the most memorable moment you've photographed and why?
One of the most memorable coverages was the protest which ensued after the demolition of the National Theater. I still get goosebumps when I recall those moments. Every person there; journalist, artist, young, and seniors were all crying meanwhile they were pushing away the police. It was one of those moments when you realize how dreams, ideals and freedom crumble in front of your feet. It was like a unification of freedom of speech shouting in the midst of art, tears and anger.
You can follow Loreta on Instagram here.