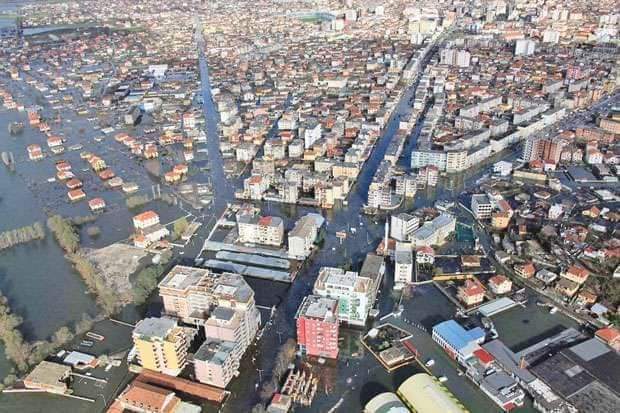 Heavy rain has battered Albania for the last few days causing flooding, landslides, damage, and resulting in a number of families being evacuated.
In Elbasan, damage has been reported on several roads including falling debris and small landslides. A school in Labinot Fushe was closed after the roof collapsed due to heavy rain. A school in Gramsh also closed as rivers in the area pose a risk to students travelling to and from the school.
Electricity has gone off in Lunik, Librazhd, part of the customs of Qaf Thane, and in parts of Gramsh and Belsh.
In Lezhe, some 4300 hectares of land is reported to be underwater, flooding villages and roads. It has prevented many from being able to attend school on the first day of term. Large swathes of the City of Lezhe are also underwater as the Drin river burst its banks.
In Shkodra, 1823 hectares of land are underwater. The news was announced by the Municipality of Shkodra who also noted that the water level of Lake Shkodra has also increased ner Livadeve and Dobrac.
Vlora has also been affected with large parts of the city flooded.