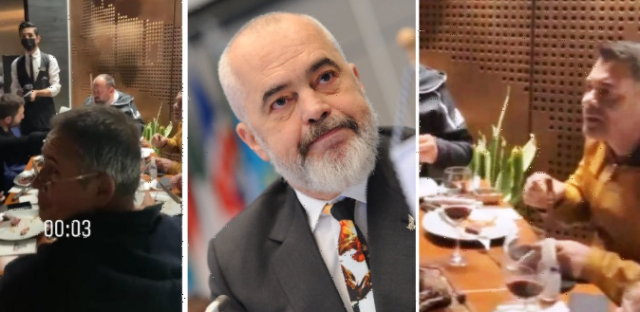 As much of Albania battled floods and bad weather over the weekend, senior members of the Socialist Party and officials from the Municipality of Tirana dined at the famous Nusr-Et steakhouse in Dubai.
Deputy Mayor of Tirana Arbjan Mzniku, Director of Communications Endri Fuga and his wife, Minister of Reconstruction Ahmetaj, and Minister of Infrastructure Belinda Balluku were present, as was businessman Saimir Mane. Top Channel journalist and political correspondent Muhamed Veliu was also in Dubai to report on the meetings.
A video was published by Nusr-Et which showed them sitting, dining, and enjoying a meal. The video was picked up by Albanian media and Nusret quickly deleted their posts.
Criticism on social media was strong as it comes at a time that hundreds of families have lost their homes and are living in tents following the earthquake, many more have been impacted in the last week due to floods, and the COVID-19 pandemic continues. Starters at Nusr-Et range between $50- $235 and a gold-plated serving of steak can reach $340.
It was reported in some media that the group of Albanian officials visited Dubai at the invitation of the Emaar business group. This group has undertaken to build 2000 apartments in the Hospital area, as part of the Reconstruction process.
However, so far there is no reaction to the visit to Dubai from any of the participating ministers or officials of the municipality of Tirana. Prime Minister Edi Rama said the purpose of the trip was to bring investment to Albania. He added that costs were covered by the "hosts".